Rated #4 Best UK Company Formation Agent
Ease Of Use = 9.3
Value For Money = 9.4
Customer Support = 9.4
Services Offered = 9.0
PROS:
Simple setup process in only four steps
A very large range of packages to choose from
CONS:
Do not offer a pre-submission review or PAYE registration service
Only basic details about the company available on their website
Your Company Formations is yet another formation company that claims to be the leading one in the UK. Not only that, but it promises to make company formation effortless, as they state on their official website.
They have a four step process and one of the largest ranges of packages available on the market. Therefore, this Your Company Formations review is set to find out if the claims as well as their goals have been met.
Claim A FREE Guide To Completing Your Company Formation:
At a Glance
According to their own statements, Your Company Formations uses a team of experts with over 100 years of combined expertise to simplify the process of setting up a company or business.
At the time of writing this Your Company Formations review, they offer five basic packages and a set of other additional packages which you as a customer can choose from.
As per the statements on their website, there are no hidden charges since the company believes in transparency as well as clear pricing. But Your Company Formations also offers a set of Additional Services, Address Services, as well as Financial Services.
Which Company Formation Package Is Right For You?
Answer 5 multiple choice questions to get a personal recommendation:
How Does The Your Company Formations Process Work?
This company's model which they boast proudly on the front page of their website is "company formation made effortless" and at a very low price.
Therefore, it's safe to assume that they have made it their job to simplify the process of setting up a business or a company as much as possible.
So, let's take a look at the four steps of the process in detail to see if their claim is true.
Select your company name
Your Company Formations has a company name checker which, according to them, is very easy to use. During the first step of the process you are advised to use this company name checker to make sure that the name you have chosen for your company or brand is still available to be registered.
Choose the corporate package that suits you best
Once you have chosen your company name you can move on to the second step of the process. This is when you will be able to select the package or service bundle that you think meet the needs of your business the best.
Objectively speaking, from the point of view of this Your Company Formations review this should not be difficult to do since the company in itself offers such a vast range of packages or bundles to choose from.
As a result, there should be something within their offer that will meet your needs or expectations at any point during the process of setting up your business.
Here are the five basic bundle they offer:
The digital formation pack – the smallest bundle you can purchase will allow you to reserve a name for your company as well as form an LLC.
The digital & print pack – will get you all your company documents via email in the shape of PDF documents as well as a hard copy if you provide an address.
The privacy formation pack – allows you to create a company that has a London address.
The fully inclusive pack – will get you everything you need if you want to create an LLC.
The international pack – perfect for people who want to form a company from outside the UK.
Go to checkout and pay
The third step of the process asks you to add any other additional business services that you think you might need to set up your company or business. When you are done you can head on to checkout and pay for the package and any additional services you have selected via the online checkout service they offer.
Submit your company details
The last step of the process is the one where you have to fill out your company and director details so that you can complete your order. Once all these four steps are done Your Company Formations will take over and start doing your job for you.
Fees
No Your Company Formations review would be complete without talking about fees. To put it simply, the company stands at a midway point on the market. This means that it's not the cheapest formation's company in Britain, but it's also not the most expensive company of its kind you could choose.
One of the most important things about the company is the fact that it values transparency and clear costs as much as possible.
Therefore, for your benefit there will be no hidden fees or surprise costs once you have decided what bundle or package as well as additional corporate services you want to purchase.
If we were to look at the five basic packages that they offer we can tell you that their prices range from £12.48 for the simplest, cheapest, and most basic service they offer, which is the Digital Formation Package to £108.48, which is the International Pack. These ones are included in what they call the Popular LTD Packages.
They also have another section on their website which comprises what they call their Specialist Packages. This section includes the following packages: the Guarantee, the LLP, the Right to Manage, the Property Company, the Charity Company, and the PLC.
Their prices range between £24.99 for the Limited by Guarantee Standard Pack, to £144.99 for the Public Limited Company Registration Pack.
The company also offers a somewhat limited corporate services range. It includes Addresses, Additional Services, and Financial packages. Their prices depend on what you choose, of course.
Some examples include £80 for the Issue of Shares Resolution Service, £48 for the Certificate of Good Standing Service, £98 for the Business Mail Forwarding Address in Central London Service, and more.
Value for Money
When deciding on the value for money you are getting if you decide to choose Your Company Formations as a business partner we have to take into account both the packages they offer and their additional services.
As a result, when it comes to the packages they are able to provide and taking into account everything that this Your Company Formations review has been able to find out so far, we can honestly say that you will receive good value for your money.
The company has fairly low prices and strives to make the process of setting up your company as easy and fast as it can possibly be.
However, if you are also interested in additional services apart from the simple process of setting up your company or your brand the idea of value for money changes a bit. From this perspective, the company has a somewhat limited capacity of offering additional services.
Your Company Formations Reviews From Customers:
I found Your Company Formation on a Facebook group. My company got registered now. It was quick and convenient to set up a company online, and it has real person communicate back and forward with you when you have uncertain.

5-Star review from Sharon via Trustpilot
your company formation was great help for me to register my compnay in the uk. the adviser was very efficient and professional, and whenever I did send emails for query regarding the set up of the company I received the answer straight away

5-Star review from Nathalie Haumont via Trustpilot
Your Company Formations Advert
The Advantages
It's time to take a look at the pros and cons of Your Company Formations to be able to make an objective and informed decision as a customer.
The large number of bundles
Your Company Formations has one of the largest numbers of bundles or packages on market. This means that it will be able to cater to all your needs whether you want to set up a basic company, an LLC, a company from outside Britain or any other type of company you might think of.
It also provides services for contractors, freelancers, workers, and everyone in between.
Good customer service
The company has received a great deal of positive reviews on third party websites that praised its customer support.
Many people who have already decided to work with Your Company Formations have left positive reviews and stated that the customer support has been prompt and extremely helpful as well as friendly whenever they had a problem.
This is definitely an advantage both for the company and for you as a customer if you decide to work with them.
The process is super simple
As already detailed above, Your Company Formations has a four step process through which you can set up a company or brand.
The process is extremely easy to follow seeing as the only thing you have to do is choose a name for your company, select the package that is most suitable for your needs, pay for it at checkout and then complete an online form.
Not only that but the company also has an online name checker where you can easily find out if the name you have selected for your company is still available.
This will save you a lot of time in case the name you want for your new brand is already taken. You can deal with this problem right there on the spot.
The Disadvantages
Since we are striving to make this a fair Your Company Formations review, let's look at the disadvantages of working with this company as well.
The large number of packages
This has also been mentioned as an advantage. But while it can be so for a number of potential customers of Your Company Formations, it can also prove to be a hindrance for others.
Having so many bundles to choose from can become challenging, especially for beginners both in the world of business and with this type of process. As a result, perhaps sometimes less is more.
A couple of missing services
While the company does offer some interesting add-ons that we haven't seen elsewhere (the free use of one of their meeting rooms may be particularly useful for some), there are also a couple of services 'missing' that others offer.
The most obvious is there is no way to add on a 'pre-submission review' of your formation request before it's sent to Companies House which is something some of the other agents offer. However, they do offer to fix anything (for free) that might cause your company to rejected so that does ease those concerns slightly.
They also do not offer a direct option for PAYE registration. This won't be a problem if you aren't immediately hiring staff (or you're comfortable with the doing the process yourself), but if you're looking for this option you'll only get it if you opt for an accounting package from their sister company.
Medium prices
The prices that this company operates are not the lowest on the market. They can be fairly considered as medium or average.
However, to be completely objective and in their defence, Your Company Formations does not state on their website that they are the cheapest company of its type in Britain.
Starting A UK Business?
Get rid of the confusion and always know what to do next with Startup Hive, the step-by-step platform created by the Business4Beginners team.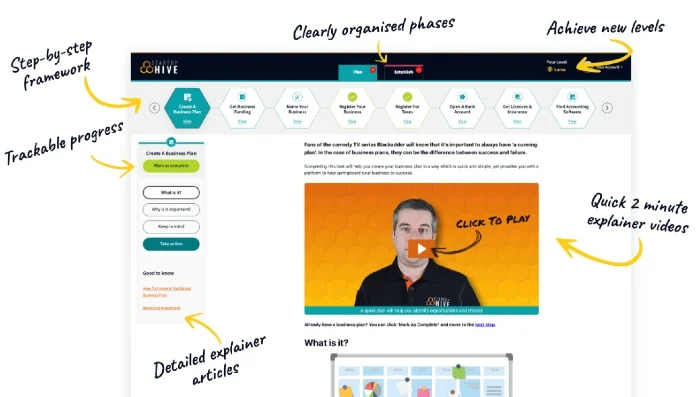 Also includes:
+ Free Bookkeeping Software
Join today for 100% FREE access to the entire Plan phase, taking you from generating and validating your business idea, through to registering your business and ensuring all your key responsibilities are taken care of. You'll end the phase by preparing your mindset to cope with being self-employed.
"Excellent guide to build your business"
"The perfect starting point"
"Incredibly simple and intuitive to use"
Get clear actions to follow then mark steps as complete to track your progress to your ultimate goals. Use the built-in AI tools to power up your ideas and easily generate PDFs that showcase your ideas (including a one-page business plan).
Startup Hive is your trusted companion as you look to turn all of your business dreams into reality. Join today for free.
—
Summary
The best thing that has come out of this Your Company Formations review is the fact that they offer a large number of packages to choose from. Another thing you might like is their customer support which has received a lot of praise and positive feedback online.
All of this, plus their simplified company formations process and their medium prices make for a trustworthy company that has the possibility of serving you well.
Top-Rated Company Formation Agents