Rated #9 Best UK Company Formation Agent
Ease Of Use = 8.5
Value For Money = 9.0
Customer Support = 9.5
Services Offered = 9.7
PROS:
Wide range of services offered
Links to accountancy firm
Largest UK formation agent
CONS:
Occasionally confusing website
Prices shown don't include VAT
Companies Made Simple is probably the largest and most well-known company formation agent in the UK.
They boast that they have formed over 1 million companies since 2002 and come well-recommended by most of the entrepreneurs who have used their services.
One impressive thing our Companies Made Simple review has uncovered is that they offer virtually every service a new company could ever require, making them an ideal one-stop-shop when starting your business.
Starting A UK Business?
Get rid of the confusion and always know what to do next with Startup Hive, the step-by-step platform created by the Business4Beginners team.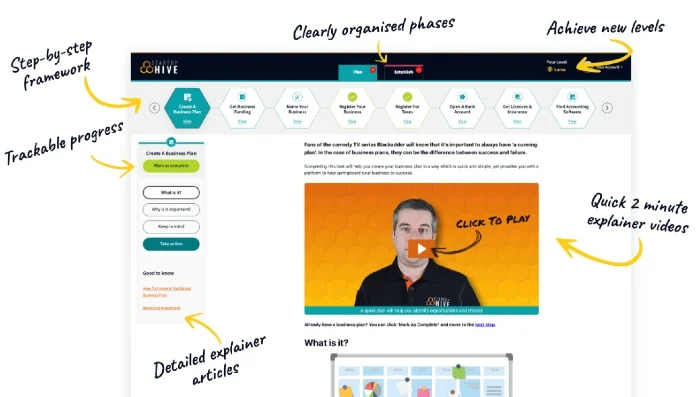 Also includes:
+ Free Bookkeeping Software
Join today for 100% FREE access to the entire Plan phase, taking you from generating and validating your business idea, through to registering your business and ensuring all your key responsibilities are taken care of. You'll end the phase by preparing your mindset to cope with being self-employed.
"Excellent guide to build your business"
"The perfect starting point"
"Incredibly simple and intuitive to use"
Get clear actions to follow then mark steps as complete to track your progress to your ultimate goals. Use the built-in AI tools to power up your ideas and easily generate PDFs that showcase your ideas (including a one-page business plan).
Startup Hive is your trusted companion as you look to turn all of your business dreams into reality. Join today for free.
—
Claim A FREE Guide To Completing Your Company Formation:
Advantages of Companies Made Simple
Other than the fact Companies Made Simple are probably the biggest company formation agent around and trusted by so many people across the country, the other big pull of the brand is the services offered.
In terms of additional services available no other formation agent can get close to Companies Made Simple who offer all of the traditional services offered by formation agents plus extras like:
Offshore company formations
Apostilled documents

Certificates of good standing
Dormant company accounts

This makes them ideal if you prefer to have a single place where you can get virtually all of your business admin taken care of. They are also linked to a firm of accountants that can provide all manner of other services too such as annual accounts and tax returns.
Like most company formation agents, Companies Made Simple also offer the more common services such as registered offices, mail forwarding, nominee services, etc. In terms of the range of services offered, you will not find another formation agent that can offer so much.
However, you should also take in to account that many of the services can be bought seperately, even if you do not use Companies Made Simple to form your company. This means the additional services should not be the standalone reason why you choose them to form your company.
Which Company Formation Package Is Right For You?
Disadvantages of Companies Made Simple
The biggest issue that our Companies Made Simple review has uncovered is that because of the amount of additional services offered, the website can be a little cluttered and confusing at times.
There are so many things to choose from and so many different packages, it's often hard to establish what you actually need and which options are the best for you.
The formation process itself is relatively straight-forward but still, just choosing your package can be a daunting task and so for this reason we have had to give Companies Made Simple a low score for 'Ease of Use'.
However, it should also be added that whilst the website can be confusing, the customer support offered is very good and so you can get help relatively easily if you get stuck.
Value for Money
Our Companies Made Simple review has established that you do get pretty good value for money by using their services with every formation coming with a 'Startup Toolkit' which includes:
Free domain name
Free Google advertising voucher
An initial free accountancy & tax consultation
A day pass to their London coworking space
Free small business startup guide
However, keep in mind that all prices are shown exclusive of VAT. This means, you will need to add on 20% to all displayed prices (though if you're VAT registered you'll be able to offset this extra amount). This puts the cost of the basic company formation package up from £14.99 to £17.99.
The Companies Made Simple Formation Process
As previously stated, probably the hardest part of the formation process on Companies Made Simple is choosing which package is best for you as there are 5 to choose from and some only vary slightly.
Other than that the application process is relatively straight-forward although perhaps does not feel quite as smooth as SetupaCompany. This is partly because you have to complete your payment before you submit your application, whereas on SetupaCompany, you only pay after you have finished the application.
Companies Made Simple Review Summary
In summary, in terms of reputation and the number of services offered, it is hard to fault Companies Made Simple – it's obvious why so many people recommend their services.
However, our Companies Made Simple review has also shown that once you take VAT in to account, the prices are not as low as they first seem and the formation process itself can be both confusing and therefore time-consuming.
With this in mind, if you are not phased by technology and require some of the extra services that Companies Made Simple offer, they are a great choice for forming a company.
However, if you prefer a cheaper and more straightforward approach to getting a limited company set up with the minimum amount of fuss, SetupaCompany may be a better choice – you can read our full SetupaCompany review by clicking here.
Top-Rated Company Formation Agents