Rated #3 Best UK Company Formation Agent
Ease Of Use = 9.7
Value For Money = 9.6
Customer Support = 9.3
Services Offered = 8.9
PROS:
Completely free company formation available
Choice of packages with added extras such as VAT registration
Easy to complete 5-step application process
CONS:
Free option requires opening of an ANNA business bank account
Only possible to set up limited company
Only one shareholder allowed (more can be added later via Companies House)
ANNA Formations Review [Updated For 2023]- ANNA is an online bank that is quickly growing the services it offers small businesses in the UK.
They now can offer limited company formations with a choice of packages, including a completely free option. Our ANNA Formations review will delve into the details to see what you can expect from this formation agent and whether it's worth using.
At A Glance
ANNA Formations is a spin-off from the online bank, ANNA Money. It's owned and operated by the same people and is very much an integral part of their business.
In short, their offer is that they can simplify the company formation process for you, and setup your company 100% for free. The catch being that to get the free offer, you must open an ANNA business bank account at the same time.
Since all UK limited companies are required by law to have a dedicated business bank account, this isn't necessarily a bad thing as the ANNA business bank account is a pretty good offering in itself.
Encouragingly, at the time of writing our ANNA Formations review, there were also several other packages available that include things like VAT registration, registered office address services, simple accounting software, and more.
That means that ANNA Formations is closer to a traditional company formation than many other banks who offer company registrations.
The downside is that you can only form simple limited companies with a sole shareholder – though you can add more post-formation via Companies House.
If you prefer to get your business bank account elsewhere, there is a package that comes without one but it'll cost you £15 and, quite frankly, there are better options available from other company formation agents.
Which Company Formation Package Is Right For You?
Answer 5 multiple choice questions to get a personal recommendation:
How Does The ANNA Formations Application Process Work?
The ANNA Formations process is sold as being a really simple and quick process that should only take 5 minutes to complete.
While this isn't too far from the truth, our ANNA Formations review found that the process typically takes a little longer as you'll be making a few decisions along the way.
While it looks like a simple 5-step process initially, each step contains multiple small steps so it's actually more like a 20-step process. However, this is somewhat unavoidable as forming a company is a legal process and so most details are required by Companies House.
Here's a fairly simple breakdown of the steps you can expect to follow.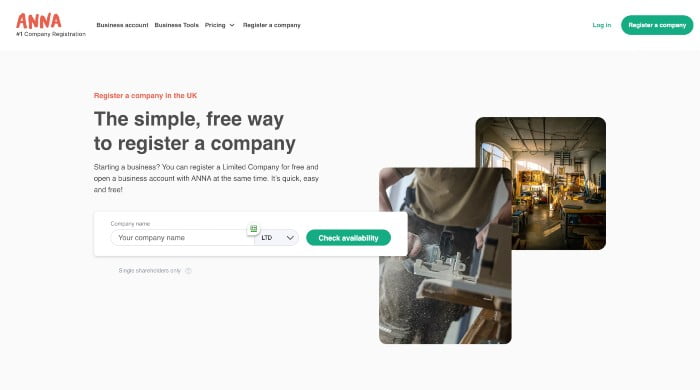 Company Name
As with most company formation agents, you'll start by checking the name you want for your limited company is available to be registered.
The ANNA Formations website has a direct link to Companies House so you can check company name availability with them, or you can use our handy tool below:
Choose A Package
Once you've found an available company name you like, you can click the register button and proceed to choose a formation package.
As we mentioned earlier, we think the only options really worth considering on ANNA Formations are the ones that come with the business bank account included. That means you can ignore the 'Basic' package and look instead at the 'New Business', 'Added Privacy' and '+Taxes' packages.
These are on a sliding scale, so each package includes everything in the previous package, plus a bit more.
This is the free package that includes your ANNA business bank account, your company formation, and the filing of your first annual confirmation statement. It's essentially the 'no frills' company formation package.
This costs a bit more but includes everything in the 'New Business' package as well as VAT registration, a London registered office and service address, and guides to help you be GDPR compliant. It's ideal for those who want to protect their home address but do not have a physical office.
This includes everything from the 'Added Privacy' package but also adds on tools to help cover all your tax requirements as a small business including calculating and submitting Corporation Tax and PAYE submissions.
Which one you go for will depend on your needs but keep in mind the fee shown is a monthly fee not a one-off fee. On the plus side, that also means there are no hidden extras and you won't find services suddenly renewing for much higher rates later, like you do with some formation agents.
Create An Account
Once you've chosen a package, you'll need to create an account in order to continue. This is a very quick and painless process.
Step 1/5 – How It Works
The first step you'll see once inside the formation process is simply some instructions for how the process works. Quite frankly, it's not really worth counting as a step, but since ANNA Formations call it a step, we will too!
In short, it tells you it's a quick process and as well as needing your company information, they'll need you to verify your identity too (this is a legal requirement for them).
Step 2/5 – About Your Business
This is the first 'real' step that also includes several steps within it. Basically, you're providing the details about your company that will be sent to Companies House.
The first of these details are the address you want show on public records as your registered office address. If you don't want to use your own address here, you can use ANNA Formations virtual office instead.
You'll then have to select your country of residence, though we are not sure why you have to specify this since it has to match the country your registered office is in!
The next part is to explain in a few words what your company does. This is to try and make the next part easier….
… which is what your business SIC code is. This is a simple descriptor of the category your business fits in which is required by Companies House.
After that, you'll confirm when your business will start trading, and decide if you want to add on tax and accounting help if it's not already part of your package.
The final part of this step is to check and confirm all the details you've entered so far.
Step 3/5 – About You (The Director)
You've probably realised by now that while each step has lot's of different parts to it, it's all actually relatively straightforward and well explained on the ANNA Formations website.
So, in the interests of keeping this ANNA Formations review relatively brief, we'll summarise our experience of the next few sections, starting with the 'About You' step.
This is where you'll add your own personal details as the director of the company.
Basically, you just need to provide personal details like your address, nationality, phone number and so on as well as set some security questions and answers.
Step 4/5 – Particulars
This step starts with perhaps the most time-consuming part of the process – verifying your identity.
ANNA Formations uses a third party for this and the exact process will depend on where you're located. However, it essentially involves uploading some ID and then using your webcam or phone to snap a quick photo to prove you are who you say you are.
Once you've done this, you can then go ahead and get yourself setup as a shareholder, assign shares and appoint a company secretary.
Step 5/5 – Complete
This is the final step where you'll review everything then submit to Companies House for approval.
Whoop! Well done, if you've reached this stage you'll be the proud owner of your own limited company!
What Exactly Do You Get?
So, we've been through the process step-by-step, but now our ANNA Formations review will have a closer look at some of the specifics of what you actually receive.
Free Company Registration
Clearly, the main reason for using ANNA Formations is to get your limited company registered with Companies House.
The good news is that that is exactly what you get, and no matter which package you choose, the £12 incorporation fee is included so you don't need to worry about any hidden extras.
Where some people may find ANNA Formations lacking is that any documentation related to your company (such as the incorporation certificate) is only available to you as a digital version via email.
This shouldn't be too much of an issue as you can order hard copies via Companies House but it may not suit people who prefer physical documents.
ANNA Business Bank Account
Assuming you're following the advice of this ANNA Formations review and opting for one of the packages that includes the free business bank account, you'll want to know a little more about it.
Here are some of the highlights:
Free business bank account
Includes a physical business debit card and a virtual one
You can pay cash into your account at PayPoints across the UK
Easily manage debit cards for employees to pay for expenses
Create 'pots' to better manage and put aside money in your business
Setup Direct Debits for free
Earn 1% cashback on a range of business purchases
When you look around at customer reviews of the ANNA Business Bank Account you'll see they are almost always very positive which should give you confidence that this is can last the lifetime of your business.
Added Services
We really like the fact that ANNA Formations has a number of additional services available on their more expensive packages.
The virtual office service is a must-have for anyone who doesn't have business premises but doesn't want their home address appearring on the public register.
VAT registration is also a 'nice to have' as you'll need to become VAT registered if/when your turnover exceeds £85,000. While the process to register isn't too involved, it's nice to know ANNA Formations can take care of it.
Though perhaps the most valuable of all the additional services is the ability to get all the tools you need to manage your tax and PAYE requirements. Often these kind of tools will be quite an expensive extra, with a whole new platform to learn.
Plus, it's worth keeping in mind the +Taxes add on includes 24/7 help from the ANNA Formations team of tax advisors. This gives you peace of mind that you can always get support if you get confused about any tax matters.
Limitations
As you've seen, there are some great benefits of using ANNA Formations, however we do need to point out a few limitations.
For starters, you can only form limited companies through ANNA Formations. That means you're out of luck if you want an LLP or any other type of UK company.
Plus, you can only have a single shareholder at the time of formation. While this can always ben changed later, it's an extra hassle if you're not the only shareholder.
You can't use the service to create shell companies or companies for anyone else, either.
Plus, as we alluded to earlier in our ANNA Formations review, you only get digital copies of your company documents and certificates, not hard copies.
ANNA Formations Reviews From Customers:
Anna has been a fundamental cornerstone in supporting our business when others were not interested. They provide a simple and effective solution that reduces the time on admin and overall simplicity of managing your business finances

5-Star review from Paul Young via Trustpilot
I haven't had my account for very long but so far the customer service (online) has been excellent. Queries are answered very quickly, issues resolved immediately. The chat facility is really good and they are very accommodating.

5-Star review from Jennie via Trustpilot
The Advantages
As we are now reaching the end of our ANNA Formations review, it's time qo quickly summarise the 3 main benefits:
Free Company Registration
Sure, you might only get a free company formation if you take their business bank account too, but you're going to need one anyway and the one ANNA offers is actually pretty good.
Choice Of Packages
Unusually for banks that offer company formations, ANNA Formations actually has a really good range of different add-on services. These include virtual office addresses, VAT registration, and the rather excellent +Taxes option that means most people won't need to look anywhere else.
Easy Formation Process
While we did highlight that the simple 4 or 5-step process that ANNA Formations claim to have is actually more like a 20+ step process, it's still very straightforward and doesn't actually take long to complete.
The Disadvantages
Of course, we also need to consider the main disadvantages of ANNA Formations too, which are…
Linked To Opening ANNA Business Bank Account
While there is an option to form your company without opening an ANNA business bank account, it quite frankly, isn't the best option out there. That means if you're going to use ANNA Formations, you really need to accept you'll be taking their business bank account too.
Limited Set-up Options
We've mentioned a few times already in this ANNA Formations review that one of the biggest drawbacks is the fact you can only create a limited company with a single shareholder.
This might be an instant deal-breaker for some, but it's worth keeping in mind you can add more shareholders later via Companies House.
From Idea To Successful Business…
Step-by-step framework to plan, establish and grow any type of UK business
Mark steps as complete to track your progress
Create powerful PDFs (including business plans)
Use AI to generate new ideas & website copy
FREE to join and get started
Created by the Business4Beginners team
Also includes:
+ Free Bookkeeping Software
—
Summary
And there we have it, our comprehensive ANNA Formations review has reached the end.
Overall, we've seen that ANNA Formations offer a good, solid company formation process that has been simplified as much as possible.
Sure, this has led to a few disadvantages but the positives far outweigh the negatives.
The fact you can form your company completely for free is a big attraction, but so are some of the added value extras such as the +taxes package that helps you take care of all your tax responsibilities and get help whenever you need it.
For this reason, we have no hesitation in recommending ANNA Formations as a reliable, cost-effective company formation agent with a direct link to Companies House.
Top-Rated Company Formation Agents