Compliance with HMRC rules is vital for every business, because non-compliance can be costly.
Accountants help businesses to avoid any penalties, but small businesses can't afford to have their own in-house accountant, so online accountant companies are a good alternative. Here we look at the best online accountant reviews for UK businesses our expert team have conducted.
Our Top-Rated Online Accountant:
Best Online Accountants Comparison Table
How Our Ratings Work
We are a small business ourselves and know how important it is to have an accountant you can trust. This means we know exactly what matters when it comes to choosing an online accountant.
This gives us the knowledge we need to assess the advantages and disadvantages of each online accountant company and provide you with the best online accountant reviews in the UK.
While we haven't used their services ourselves, we have researched each provider thoroughly, to provide you with an accurate assessment.
When carrying out our online accountant reviews, we make sure we look at the criteria that really matter. We look at the various services they offer, because we know that not every small business has the same needs.
We look at their reviews to make sure that their customers get great service. Because we know that, as a small business owner, you need to be able to trust and rely on anyone dealing with your accounts to have peace of mind.
And we also look at price, as this is a main factor for any small business, with money often being tight.
Using all these factors, we produce an overall score for each provider, which will give us the ranking to find the best online accountant.
To find the best online accountant for your small business, you need to find the one that meets your needs and our online accounting reviews will help you with this.
From Idea To Successful Business…
Step-by-step framework to plan, establish and grow any type of UK business
Mark steps as complete to track your progress
Create powerful PDFs (including business plans)
Use AI to generate new ideas & website copy
FREE to join and get started
Created by the Business4Beginners team
Also includes:
+ Free Bookkeeping Software
—
At A Glance
Here's how the online accountants we have reviewed stack up at a glance…
#1 – The Accountancy Partnership (Our Rating = 9.4)
The Accountancy Partnership has made it to the top of our list of online accountant reviews, because they offer basic packages at a low price for various business types.
We like that because it means you won't have to pay for any services you don't need.
But if you do need more services, you can add them to create a package that suits your needs, and you will only pay for what you need and use.
You will get a personal accountant who will provide you with unlimited advice and support. Their accountants are all qualified and based in the UK.
This company even provides you with their own bookkeeping software – Pandle. But if you prefer to use any other software, that's fine with them too.
You can read more in our full The Accountancy Partnership review.
#2 – Osome (Our Rating = 9.3)
If you want a hand-off approach to accounting, then Osome is the company for you. They offer a wide range of services and your dedicated accountant will take the stress out of accounting for you.
We like the level of service that you will get with any of the packages from this provider. But because this comes with a price tag, we have put them in the second spot of our list of the best online accountant reviews for UK businesses.
With Osome you will get excellent support, whether you are a limited company, sole trader or freelancer.
Read our full Osome review for more detailed information on this provider.
#3 – More Than Accountants (Our Rating = 9.1)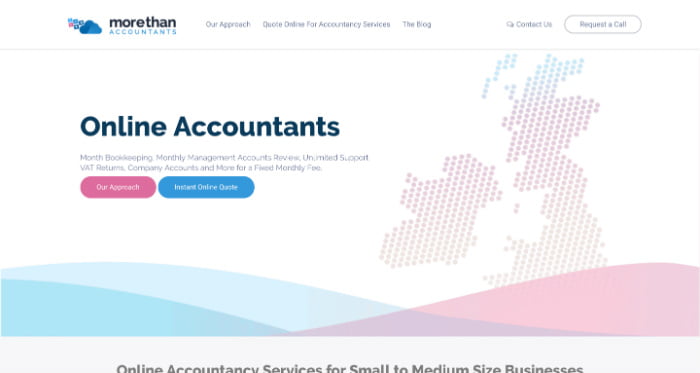 What we really like about More Than Accountants is that you can create your own package according to your business' needs.
You simply answer a few questions about your business and get a quote for a fixed monthly fee that is tailored to you. You don't need to worry about paying for any service you don't need, just because it's part of the package.
More Than Accountants are a pure online service, so you won't be able to meet your dedicated accountant in person.
But what you will get is the whole More Than Accountants Team to support you. So, if your dedicated accountant is not available, any of the other qualified accountants can help you with your query.
You can find out more about this provider by reading our full More Than Accountants review.
#4 – Crunch Accounting (Our Rating = 9.1)
Crunch offers a free accounting software, even if you don't use their accounting services.
They offer a pro package for sole traders and one for limited companies. These include the basic accounting services for each business type.
But then there is also the premium package for limited companies, which has additional services such as VAT returns and director payroll.
The more complex packages come with a big price tag, and if you don't need all the services included, you might pay more than you should.
Read our full Crunch Accounting review to find out more.
#5 – Hellotax (Our Rating = 8.9)
While Hellotax is not entirely comparable to the other providers, we still have added them to our list of our best online accountant reviews.
This is because they offer a great VAT return service, and for some small businesses, that's all they require.
You can use their VAT software absolutely free of charge, but if you need more support, you can pay them to register your business for VAT or complete your VAT returns.
What we like is that you can also use their service for VAT related services in other countries. So it's ideal for small businesses that operate in various countries.
This is a great alternative if you are only after help with VAT related tasks.
You can learn more in our full Hellotax review.
With What Task Can An Online Accountant Help?
This depends on the services that the various accounting firms offer. But generally, they will deal with the same accounting tasks as traditional accountants. These are the main tasks most online accounting firms will do:
Completion of your company's tax return (or self-assessment tax return for sole traders) and submission to HMRC
Completion of your company's annual account and submission to Companies House
VAT Returns for your company
Payroll and Pension services
Give accounting advice such as on tax efficiency
Some online accounting firms also offer bookkeeping services as part of their accountancy packages. Or you can add this service at an additional cost.
There are also online accounting firms that will complete your registration at Companies House, if you are setting up a new business.
Some might provide you with their own accounting software to use, but normally they will also work with others if you wish.
Online Accountants Not For You?
Use the form below to get a quote from a local accountant:
What To Look For In An Online Accountant
If you are new to owning a business, then choosing the best online accountant that fits your needs, can be daunting. Our list of the best online accountant reviews can give you some pointers.
But here are some things that you want to look out for when deciding who to go with.
Trust
As the accountant will have insight into your company's bank accounts and deal with your annual accounts and tax returns, trust is essential.
You also rely on them to submit all your accounts to various bodies, such as HMRC and Companies House, so for your own peace of mind, you have to trust that they will meet any deadlines. Getting a fine for missing a deadline is bad enough if it is your own fault, but if you have paid someone to do it, it is frustrating, to say the least.
One way to make sure you can trust a service provider is by going with a well established one, that is a recognised brand.
Providers who have millions of customers and have been operating for decades, will be trustworthy.
You can also look at reviews, because these have been left by actual customers. So you can see if they are mainly bad, that the provider is probably not trustworthy. While any service provider will get bad reviews, as long as the positive ones outweigh the negative ones, you should be fine.
You can also go by recommendations from friends, family and colleagues.
Accounting Packages
The best online accountants in the UK will offer a wide range of packages. They might be tailored to various business types or by services.
The important thing is, that you don't pay for things you don't need.
To avoid forking out more than you should, look for packages that only contain the services you need.
The best online accountants will have accountancy packages that will contain the minimum services that you will need, with an option to add more services at additional cost if you need them. Or they tailor a package just for your needs to ensure you only pay for what you use.
Personal Touch
Most online accounting firms will provide you with your dedicated accountant, to whom you have unlimited access. However, most of the time, this will mean email, online messaging, maybe phone.
With online accountants you don't ordinarily have the possibility to meet your accountant personally. However, there are online accountants that will offer the personal touch.
So, if that is important to you, look for a provider that will give you the opportunity to meet with your accountant personally.
Fees
For small businesses money is often tight, so getting the service you need at a price you can afford is vital.
The price normally depends on the level of service and tasks that they will undertake for you. So it is essential to strike the right balance between what you need and how much you can afford.
There are providers that will have packages at low monthly costs, but they might only cover the basics. Look for a company that allows you to add services when you need them. This way, you can keep your budget under control.
Finding the best online accountant for you can be daunting, but as long as you keep in mind the above tips, you will find the best one for you.
And comparisons, like our list of the best online accountant reviews, can also help you to compare the various providers and to give you a better overview of the services they offer.
Top-Rated Online Accountants: