Your business is up and running; your website is online and you have found the perfect niche market to start making money.
But then you realize you need to decide one more thing: how to deal with accounting and bookkeeping.
Accurate bookkeeping will save you money and time in the long-run, so it's best to tackle it properly from the beginning. As the saying goes, death and taxes are inescapable, so let's see what your options are and how you can manage your bookkeeping needs in a way that suits your business.
What Are The Basics Of Bookkeeping?
Your bookkeeping obligations vary according to the business set up you have chosen.
From Idea To Successful Business…
Step-by-step framework to plan, establish and grow any type of UK business
Mark steps as complete to track your progress
Create powerful PDFs (including business plans)
Use AI to generate new ideas & website copy
FREE to join and get started
Created by the Business4Beginners team
Also includes:
+ Free Bookkeeping Software
—
Basic Bookkeeping for Sole Traders
As far as keeping accounting records go, sole traders have it far easier than any type of company. In essence, all you need to do as a sole trader is keep records of all of your income and all of your expenses.
When it comes to doing your tax return, you can just add these up and enter the figures in the appropriate place on the form.
This means that using a simple profit and loss account and retaining copies of all invoices and receipts (so you can show the tax man should you ever get asked to prove your tax returns are accurate).
It's a good idea to set up a filing system and number your invoices and receipts so that you can easily track and record them. Your profit and loss account can be a simple spreadsheet detailing income and expenditure.
It's also a good idea to break down income and expenditure into categories such as advertising costs, banking fees, etc. This will then help you better manage your business and cashflow.
As sole traders do not need to file any accounts, this is all you really need to do in terms of basic bookkeeping and a lot of it is just to make your life easier in the long-run.
Recommended – Top-Rated Online Accountant:
Low fixed monthly fee
No minimum terms
Unlimited advice
Basic Bookkeeping for Limited Companies
Unfortunately things are not quite a straight-forward for limited companies as you will need to deal with a more complex set of circumstances such as dividends and PAYE as well as file annual accounts with Companies House.
It is also a legal requirement that you stay on top of your company's accounting records and keep historical records for at least 6 years.
The main things you will need to maintain a basic set of accounts are:
Sales Ledger – detailing all income and amounts still owed
Purchase Ledger – detailing all expenditure
Wages Book – Showing all salary payments and National Insurance contributions
From these you will be able to prepare your annual accounts which is a legal requirement for all limited companies.
Recommended Course:
Includes:
How to do bookkeeping manually
Prepares you for using bookkeeping software correctly
How to complete a VAT return
How to prepare a profit and loss account
How to prepare a balance sheet
Includes downloadable templates
Plus much, much more!
Generally, your basic bookkeeping responsibilities in the UK involve the following:
Keeping track of income and expenses. This involves receipts for expenses you have made and invoices for work that has been delivered.
You need to file a self-assessment income tax based on your income from your business.
If you are VAT-registered, you need to complete VAT returns and payments on a quarterly basis.
If you have employees, you need to calculate income tax and national insurance for your personnel. This is a system called PAYE (Pay As You Earn).
Because of the complex nature of preparing accounts, you would generally be advised to use an accountant or bookkeeper to prepare your accounts. Not only will this ensure that all records are accurate but it can also help to save you money in the way of tax efficiency.
It will also save you a lot of time and headaches so that you can concentrate your time on making your business a success.
Accountants and bookkeepers can charge anything from a couple of hundred pounds to several thousand pounds for annual accounts to be prepared. You can see the average accountancy costs for limited companies here.
However, for most companies just starting out will be towards the bottom end of that scale as the price will only rise as your transactions become more complex and numerous.
Keep in mind that even if you do outsource the preparation of your accounts to an accountant or bookkeeper, you will still need to do some basic bookkeeping yourself.
As with a sole trader, you will need to keep and file away all invoices and receipts and keep a basic profit and loss account in order to track all of the incoming and outgoings of your business.
Doing this will help to save you money on your accountancy bill as it will make the preparation of your accounts much quicker and easier.
Bookkeeping, The Simple Way
You can record your bookkeeping manually. Manual bookkeeping is probably best suited for very small businesses with few transactions.
All you need is a few file folders and binders, plus an organising system to keep records of your income (payments, cheques, bank transfers, etc.) and expenses (bills, purchases, receipts, credit card payments, etc.). Keep track of all dates when your customers or clients paid you and also keep copies of your bank statements.
Manual bookkeeping may not be an automated process but it is a perfectly legal way to keep a record of your income and expenses.
It's the way our fathers and forefathers did it. While not particularly elegant or effective, it works and has done so for many years.
However, it is slow and needs you to be pretty good with numbers and detail-oriented. Otherwise, mistakes can be costly, especially if your company is audited.
If you wonder where you can learn bookkeeping, there are plenty of courses, both online and through various agencies.
Bookkeeping, The Effective Way
If manual bookkeeping sounds like something from the past century, you can choose to subscribe to an accounting software programme. Several accountancy software packages cater to various business needs and requirements.
Accountancy software packages save time, money, and effort by helping you record all your transactions.
The best accountancy software will automatically calculate your profits, asset depreciation, PAYE, national insurance, corporation tax, VAT, self-assessment income tax, and many other financial requirements. All you need is to be diligent about entering the right amounts.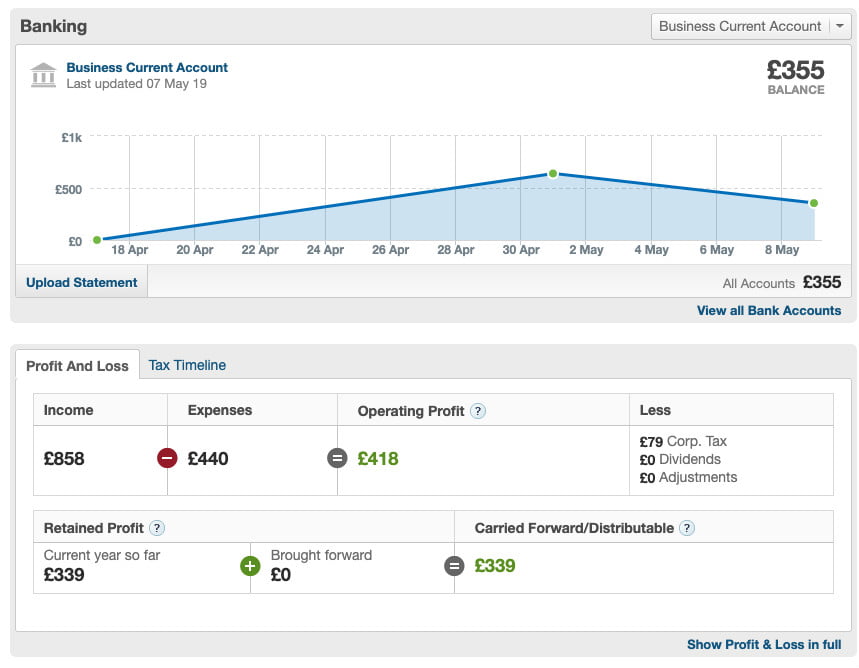 Accounting software covers most basic accounting requirements, including:
Keeping track of income and expenditure
This includes invoices, purchases, bills, cheque payments, automatic billing, and recurring payments (think subscriptions). It will also categorise expenses according to their type (for instance, utilities or advertising).
Our Recommended Accounting Software:
Preparing your records for taxation
Your accounting software will produce all necessary reports in a way that facilitates submission to the tax authorities.
Calculating depreciation of assets
Machinery and fixed assets like furniture and computers have an expected life of several years. Accounting laws usually depreciate their value over three to five years. Accountancy software will do that for you automatically, without you having to worry about making an error in an equation or using the wrong coefficient.
Calculating inventory
Anything that you have in stock should be part of your inventory, or you may be liable for it. This is a particularly valuable service if you are selling physical goods and need to be sure that what you have in physical stock is accurately represented on paper. It will also help you spot any problems within your organization such as inventory going missing.
Taking care of salaries payment and payroll
By preparing all necessary paperwork for PAYE, accountancy software can both save you a lot of time and ensure fewer mistakes. Mistakes which can potentially be pretty costly!
Filing bank reconciliation details
Bank reconciliation is when your business account is matched to your bank statement. Bank reconciliation makes sure that there are no wide inconsistencies between these two. Again, accountancy software can be quite the time-saver in this.
How Much Does Accountancy Software Cost?
Accountancy software packages offer different options, according to your accounting needs.
Prices start at just £6 per month + VAT for a basic accounting package. An average price covering more accounting features needed for a small business could range between £15 and £40 per month. More advanced packages providing for large firms' needs cost hundreds of pounds.
When choosing a software package, read carefully about any limitations and extra costs that are not covered by the subscription fee. Think about package upgrades, number of users covered by your licence, and how many transactions your licence pays for.
Which Accounting Software Is Right For You?
Answer 5 multiple choice questions to get a personal recommendation:
Also, consider the time it will take your business to learn the new software package. Lastly, remember to ask what your options are in case of troubleshooting or if you need support.
Bookkeeping, The "Mind-At-Ease" Way
If you don't feel confident to do your bookkeeping yourself, either manually or with the help of accountancy software, you can always hire a bookkeeper or an accountant to do that for you.
You will need to look around and check for prices. However, price is not the only consideration. Bookkeeping and accounting is a serious business and you should feel assured that the bookkeeper you have chosen is both trustworthy and has the required experience and knowledge.
Accurate bookkeeping is essential once you start your business: you could be audited by the government at some point and you need to be confident that everything you are filing is meticulously recorded and precise.
How Much Does An Accountant Cost?
The price of an accountant varies according to your business requirements.
You can negotiate a monthly payment which will cover specific accounting tasks, including your tax returns. The cost varies but could well reach £100 per month for limited companies.
Having an accountant on a monthly basis may seem expensive, but it means peace of mind: all you need to do is send your paperwork and everything will be taken care of. You won't have to worry about your company's accounts and you know exactly how much it costs.
Alternatively, you can pay your accountant per hour. As for how much a bookkeeper charges per hour, prices start around £15 per hour. You could also pay your accountant according to the task.
For instance, you may choose to personally handle simple income-expenditure recording, but hire an accountant for PAYE or VAT. In this case, it is perhaps better to pay your accountant on a task-basis, with payroll fees reaching £50 per month.
In any case, you can negotiate with a bookkeeper or an accountant depending on your needs and the amount of money you are willing to spend.
EXCLUSIVE OFFERS – Save On Your Accountancy Costs

10% Off Accountancy Packages

10% Off Accounting Software
Some Basic Bookkeeping Tips
Whether you do your bookkeeping yourself or hire someone else to do it, here are a few useful tips:
Hold on to your receipts and invoices
HMRC requires you to keep them for up to 6 years. Keep them safely and securely for your own records as well, in case you have a disagreement with a client or a customer.
Do your job
Even if you don't do your bookkeeping yourself, you will still need to do a minimum of filing. Invoicing your customers or clients and gathering all proof of your expenses is part of your job.
Number your invoices and receipts
This will make things easier to track down, especially if you do your bookkeeping yourself.
Photocopies can help with organisation
Although it is not exactly environmentally friendly, photocopying receipts and statements to put them in different filing categories could save you time in the future if you are looking for them.
Put aside time to do your bookkeeping
It can be an hour per week or 10 minutes per day. Whatever way suits you best, reserve some time on a regular basis to do some basic bookkeeping. This will both ensure your accounts' accuracy and avoid having them snowball into an unmanageable heap by the year's end. When it comes to accounting, procrastination is definitely not your friend.
Recommended Course:
Includes:
How to do bookkeeping manually
Prepares you for using bookkeeping software correctly
How to complete a VAT return
How to prepare a profit and loss account
How to prepare a balance sheet
Includes downloadable templates
Plus much, much more!
Separate your personal banking from your business one
Open a business account which will only handle your business transactions. Use a business credit card and a business cheque book. This way your bank reconciliation will be easier and faster and you will never mix your personal finances with your business ones. It will also give you a clear idea of how your business is doing.
Keep track of cash payments
They can be easy to forget and a nightmare when it's bank reconciliation time. Even if it is in manual format, register your cash payments.
If you use an accountant, send them all invoices the moment you issue them. This means you won't have a massive list of unregistered invoices at the end of the financial year. And it also means that you will have reported all your income, thus avoiding being accused of tax evasion.
Which Is Best For You?
That depends on your business size, needs, and personal preferences. However, many small-business owners may find manual bookkeeping too tedious and hiring an accountant too expensive.
That's why many opt for the middle path: accountancy software like FreeAgent or Quickbooks. This has the appeal of automatically covering your financial needs at a fraction of the cost of hiring an accountant while speeding up and simplifying your company's bookkeeping.
Whichever path you follow, follow our tips so that you can focus on what your company does best: satisfying your clients!
Top-Rated Accounting Software: