Rated #5 Best UK Company Formation Agent
Ease Of Use = 9.2
Value For Money = 9.2
Customer Support = 9.5
Services Offered = 9.4
PROS:
Packages for clients outside Britain
Online customer portal to make the experience easier
Order online or via telephone
CONS:
A lack of details about the process on their website
Rapid Formations review [Updated 2023]- This company prides itself in being a top rated formation's company in the UK. They offer four packages that, according to their own statements, will be able to suit any company.
Their motto is "the science of simplicity" given just how easy their four step process is.
Is that actually the case? This Rapid Formations review aims to find out.
At a Glance
Rapid Formations opened its doors in 1999 and, untouched by the expected Y2K crash, since then it has managed to form over 500,000 companies according to the statements on their official website. Not only that, but they also claim to be the number one rated company formation agent in the UK.
Rapid Formations states that they form an average of 36,000 companies every year and that it takes them between three and six hours to register a company.
They offer four basic packages as well as 18 months of free business banking, an online customer portal, 24/7 customer service and an entire range of corporate services that you might be interested in.
Which Company Formation Package Is Right For You?
Answer 5 multiple choice questions to get a personal recommendation:
Claim A FREE Guide To Completing Your Company Formation:
How Does The Rapid Formations Process Work?
Since this is an objective Rapid Formations review we have to point out that while the company's official website focuses a lot on shining light on themselves and giving you as many details as possible about the company in itself, it doesn't offer the same wealth of details about the customers.
As a result for example, there is little information to be found about the process of registering or creating a company with Rapid Formations.
However, according to their own statements, this is how it goes.
Choose a perfect name for your company
Unfortunately, Rapid Formations doesn't offer any more details on how you should do this or how the selection process should go so that you can choose a suitable name for your company that represents you and your brand.
Select a package
Once again since the company in itself doesn't offer anymore details this Rapid Formations review has to assume that they mean one of the four packages they offer.
That being said, let's take a more in depth look at those four packages right now.
The digital package – the smallest and most basic package ideal for registering company names or forming dormant companies.
The digital plus package – ideal for creating a limited company. You will also be getting a full set of company documents via email.
The print package – perfect if you want to create an LLC. You will receive both printed and digital documents as well as your own bank account.
The all inclusive package – you can create an LLC that will have everything you need as a startup which includes VAT and PAYE registration.
It's important to mention here that these are the basic packages that Rapid Formations offers. However, if you are looking for something else the company also has a Non-Residents Package which has been created specifically for the needs of people who do not reside within Britain.
The company also offers three additional options – they are called the Contractors, the Guarantee, and the LLP Package. As their names suggest they suit different clients such as freelancers, contractors, non profit organisations, clubs, workers' co-operatives, and more.
Checkout and pay for your bundle
The third step in the process of setting up a company with Rapid Formations is proceeding to checkout and paying for the package that you have chosen.
Depending on the package you selected there will be some business accounts available with your order at checkout.
Complete a form
The last step of the process asks you to complete a short form that will contain your company details. According to the statements on their official website this whole process should not take more than 10 to 15 minutes. After the entire process is completed you can relax and allow Rapid Formations to take over and do the whole job for you.
The company would also like you to know that if you do not feel confident enough to go through the steps of this process on your own, you can also call the number on their website and they will do the process for you over the phone.
Fees
When it comes to the payment structure they have in place you will be happy to find out that the Rapid Formations company has some of the lowest fees on the market.
The most basic of the packages that they offer, which is the Digital Package, costs £12.99. The most expensive package that they currently have on their official website is the all Inclusive Package for Limited Companies and it costs £49.99.
Since this is a Rapid Formations review and an objective one at that, we can tell you that these prices are actually lower then prices offered by other formations companies that claim to be the cheapest in Britain.
Apart from that, as stated on their official website, Rapid Formations also pay the £12 Companies House incorporation fee for every single customer they have.
They also offer free business banking for which they do not charge any additional fees. You can choose between eight banks when it comes to this extra service.
It is also worth mentioning here that the other packages that they offer differ in price. For example, their Contractors one starts at £39.99, their Limited Buy Guarantee one costs £24.99, their Limited Liability Partnership Package costs £29.99, while their Non-residents formations start at £119.99.
At the moment of writing this Rapid Formations review there are no discounts on their site. However, you are advised to check their company's official website for promotions and discounts that are up to date.
Value for Money
Taking into account all the things that we have checked so far in this Rapid Formations review, we can state quite objectively that if you choose to use their services you will receive good value for your money.
As we have already pointed out in the fees section above, they practice some of the lowest prices on the market and according to their own claims the process of setting up a company only takes between 10 and 15 minutes.
Not only that but the company also offers 24/7 support as well as the idea that should you encounter any problems during the process of setting up your company you can always call in and they will set up the company for you on the phone.
According to them, their average response time on the telephone is 7.6 seconds.
Rapid Formations Reviews From Customers:
Great service. The website was clear and full explanation was available. I had to call up to check the status on my application the customer service explained the reason and also helped with few queries.

Overall great experience will recommend anyone looking to form new company.

5-Star review from Arjun Singh via Trustpilot
Straight forward no messing about , just the way businesses should run.

I was thinking about using my accountant to form a limited company then I found this website, saved myself £400 and did it myself.

all done within a few days

5-Star review from David Kydd via Trustpilot
The Advantages
So far, the Rapid Formations company seems like a good solution for your needs. But the only way we can tell for sure is by looking at the pros and cons. Here they are now.
The prices are low
Without a doubt, one of the most attractive things about this company is the fact that it can offer some of the most competitive prices and fees on the market.
They start at £12.99 for a basic package and include free banking. Apart from that, none of the packages that the Rapid Formations company offers have hidden fees.
Many packages to choose from
The company offers for basic packages you can choose from in case you want to set up a limited liability company.
However if you have other needs such as freelancing or contracting, for example, the Rapid Formations company can definitely cater to those needs through the other packages they have in place for you.
What is also great about this wide selection of packages is the fact that they come with low fees as well.
Great customer service
The Rapid Formations company offers 24/7 customer support. Not only that but according to the claims they make on their official website it only takes a few seconds for someone from their customer support line to answer your telephone call.
If you want you can also go through the process of setting up a company via telephone while someone from their support line will fill out all the steps of the process for you.
A vast range of extra services
The company also offers extra services which they call corporate services. Examples include full company secretary services, company name change, confirmation statement, company dissolution, transfer or issue of shares, renewals, certificates of good standing, and more.
The Disadvantages
In all fairness, there aren't many bad things this Rapid Formations review can say about the company. However, here is what we found.
A lack of details on their website
As mentioned earlier, the process you need to go through to set up a company with Rapid Formations is not explained in detail on their website. There is only a brief mention of the steps you need to follow on one of the main pages of their official website.
Of course, one could argue that once you have chosen your preferred package you click 'buy' and then the steps become pretty self-explanatory after that.
However, since this is an objective review we need to note the fact that there might also be users that are new to this kind of service as well as to this type of website. Therefore, for their benefit the steps of the process could have been more detailed.
Starting A UK Business?
Get rid of the confusion and always know what to do next with Startup Hive, the step-by-step platform created by the Business4Beginners team.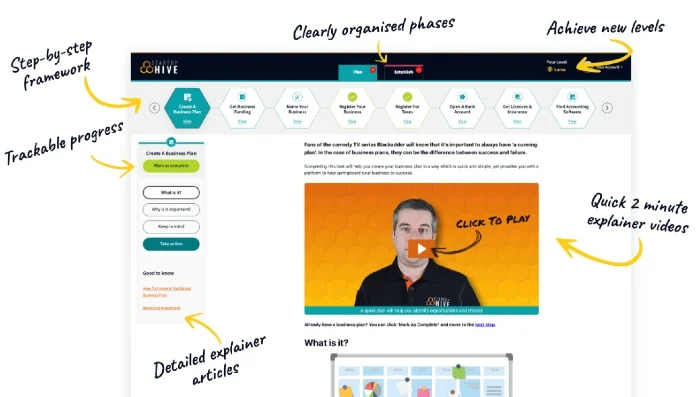 Also includes:
+ Free Bookkeeping Software
Join today for 100% FREE access to the entire Plan phase, taking you from generating and validating your business idea, through to registering your business and ensuring all your key responsibilities are taken care of. You'll end the phase by preparing your mindset to cope with being self-employed.
"Excellent guide to build your business"
"The perfect starting point"
"Incredibly simple and intuitive to use"
Get clear actions to follow then mark steps as complete to track your progress to your ultimate goals. Use the built-in AI tools to power up your ideas and easily generate PDFs that showcase your ideas (including a one-page business plan).
Startup Hive is your trusted companion as you look to turn all of your business dreams into reality. Join today for free.
—
So, Is Rapid Formations Legit?
Considering everything we have discovered during this Rapid Formations review, we would have to say that yes, Rapid Formations is a legit company formation agent.
As one of the longest-established formation agents and thousands of positive customer reviews across Google and Trustpilot, there is a lot to like about the company.
We have no hesitation is recommending them.
Summary
As a conclusion to this Rapid Formations review we can state the following. One of the things you as a customer might like the most about the company is the fact that it offers some of the lowest prices on the market as well as a great range of packages.
In other words, the company will be able to cater to all your needs for some very small fees.
At the same time the Rapid Formations company has 24/7 support that will be there to help you throughout the process of setting up a company which you can also do via telephone if you encounter any problems with their online process.
As a result, it's quite easy to see why Rapid Formations has so many great online reviews.
Top-Rated Company Formation Agents