Rated #14 Best UK Company Formation Agent
Ease Of Use = 9.1
Value For Money = 9.0
Customer Support = 8.0
Services Offered = 9.3
PROS:
The company formations online form takes only 10 minutes to complete
Very fast process that takes between three and six hours
The company is authorised by Companies House
CONS:
No information on their official website about the company formations process
No information about the company in itself
Blue Sky Formations review – If you're looking to form a company online, Blue Sky Formations offers you the opportunity to do that in a fast and simple way and at very competitive prices according to the claims they make on their official website.
Blue Sky Formations state that their process is so simple it only takes 10 minutes to complete the form. It also takes between three and six hours to go through the entire process on the whole.
This Blue Sky Formations review will try to determine if their claims actually hold true.
Claim A FREE Guide To Completing Your Company Formation:
At a Glance
Unfortunately not a lot can be said about Blue Sky Formations as a company in itself because they don't offer a lot of information about themselves on their website. However, as a company formations agent they offer quick and easy formation services and they claim to be an expert with years of experience.
They are also authorised by Companies House and they do not use any surprise costs since one of the things they say they value most is transparency (which is a little odd given the lack of information they publish about themselves!).
Starting A UK Business?
Get rid of the confusion and always know what to do next with Startup Hive, the step-by-step platform created by the Business4Beginners team.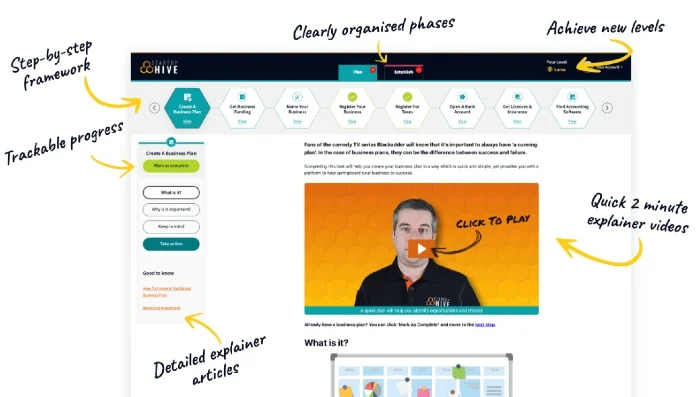 Also includes:
+ Free Bookkeeping Software
Join today for 100% FREE access to the entire Plan phase, taking you from generating and validating your business idea, through to registering your business and ensuring all your key responsibilities are taken care of. You'll end the phase by preparing your mindset to cope with being self-employed.
"Excellent guide to build your business"
"The perfect starting point"
"Incredibly simple and intuitive to use"
Get clear actions to follow then mark steps as complete to track your progress to your ultimate goals. Use the built-in AI tools to power up your ideas and easily generate PDFs that showcase your ideas (including a one-page business plan).
Startup Hive is your trusted companion as you look to turn all of your business dreams into reality. Join today for free.
—
Which Company Formation Package Is Right For You?
Answer 5 multiple choice questions to get a personal recommendation:
How Does The Blue Sky Formations Process Work?
Once again unfortunately for this Blue Sky Formations review and for you as a customer, they offer no details about the company formations process in itself.
However, since they seem to operate like a traditional company formations agent, it is probably safe to assume that the steps one has to follow are more or less the same as for every other company formations agent in this niche.
Choose the perfect name for your company
Blue Sky Formations does state on their website that this should be the first step in the company formation process. They have a name checker on their website where you can enter the name for the company or brand that you have selected.
This name checker will be able to tell you if that name is still available for registration or if it is suitable to be used as a company name in Britain.
If so, you may proceed to the next steps of the company registration process.
It's worth mentioning here that Blue Sky Formations state it only takes 10 minutes to complete their simple form even though they do not actually state what the form consists of.
Choose the bundle that is best for you
Continuing on the traditional course of action for this type of formations company, the second step of the process would be to choose a package or bundle that you think suits your new company best. In this regard, Blue Sky Formations offers 5 packages to select from, as follows.
The Digital Package – it will allow you to set up a UK Limited by Shares Trading Company. You will receive the company's digital documents, free domain as well as a web filing code.

The Print Package – will get you a printed certificate of the company registration as well as a printed memorandum and articles plus a free domain from names.co.uk.

The Premium Package – it is similar to the print package with some extras such as the company register and a registered office at Blue Sky Formations' London address and the service address for one company director.

The Protection + Package – it will get you all of the above plus Mail Forwarding which will come at Blue Sky Formations' London address, an annual confirmation statement filing, and your free domain.

The International Package – the most expensive package of them all will buy you everything listed so far plus a full company secretarial service as well as FedEx delivery available worldwide.
It's important to mention that Blue Sky Formations also offers two more packages apart from the five basic ones – the LLP Package and the LBG Package. Both come at very low prices.
Buy the bundle you have chosen online
Once you have selected the package you think will fit your needs best it's time to purchase it. Add it to your shopping cart and proceed to checkout.
The company formations process takes place on the Blue Sky Formations website as they do not offer the option of going through the same process via the telephone. Therefore, once you have decided on the perfect package for you go ahead and purchase it through their website.
Fill out the form
Blue Sky Formations mentions on their official website that it will only take you 10 minutes to fill out their form.
Therefore, this review must assume that the company formation process includes a form you must fill in with your company's details at some point during the company formation process.
Even though there are no details about this on their website. If you wish to learn more about this you can contact them or simply go through the process in itself.
Fees
When it comes to the fees at the time of conducting this Blue Sky Formations review, customers might be pleased to find out they are low to medium. This means that their prices are not the lowest on the British market when it comes to this niche but they're also not the highest. Let's look at some examples.
The Blue Sky Formations Digital Package, which is also the cheapest and most basic package you can purchase through their website costs £12.39. Prices go up from there to the Print Package which costs £24.39, the Premium Package which costs £43.59, and the Protection + Package , priced at £115.59.
The company mentions on their website that their Premium Package is also their most popular one. The most expensive package they offer is the International one which is priced at £163.59.
Their extra packages, meaning the LLP Package and the LBG Package are both quite cheap, being priced at £12.39.
Blue Sky Formations also offers a set of extra company services that have different prices. Some of these include Logo Design priced between £55 and £165, Registered Office priced between £24 and £120 per year, Mail Forwarding priced between £58 and £117 for North London and £120 and £240 for Central London per year, and many more.
A good thing to know here is the fact that a selection of these services do not have a fixed price on their website. As a result if you are interested in these particular extra or corporate services, you will have to contact them directly and ask for the fees.
Value for Money
Looking at what we have discovered so far during this Blue Sky Formations review, we can draw a conclusion regarding the value for money you will be getting if you choose them as your business partner. The company in itself does not offer the lowest prices on the market.
As mentioned above the prices can be qualified as medium, but the services they offer are high quality ones. Therefore, when it comes to value for money, you might have to pay a little more then with other company formation agents on the market but the quality of the services can make it worth it.
Blue Sky Formations Reviews From Customers:
I will recommend 1stchoice Company Formation. Their services are great and prompt, customer service is at it's best and the level of their delivery of Straight forward process.Company was ordered and all documents delivered the next day. No if's and but's . I wish other UK Companies ( especially the BANKS ) could operate as effectively .

5-Star review from Davinder Singh Ahluwalia via Trustpilot
Excellent. All the benefits of simple online ordering but the personal touch of someone checking queries on e-mail. And at this price, I doubt there's a better service available anywhere.

5-Star review from P Wood via Trustpilot
The Advantages
Since this is an objective Blue Sky Formations review, it's time to take a look at the pros and cons of working with this company.
A solid number of packages
Blue Sky Formations offers a decent number of packages which you can choose from. There are five basic packages plus two extra ones that are sure to meet your needs when you are attempting to set up your company or brand.
A great variety of extra services
If you decide to become their customer, one of the things you might like the most about Blue Sky Formations is the fact that they offer such a large number of company services.
These include Business Bank Accounts, Registered Office, Mail Forwarding to their office in London, Service Address for directors, full on secretarial services, and many more.
When it comes to extra services, Blue Sky Formations even offers some that are quite unique in this niche and which other formations companies do not offer. One example is their Logo Design Service which offers you the possibility to receive a set of logo concepts from talented designers in just 48 hours.
A very fast process
According to the claims they make on their website, the company formations process they have in place only takes between three and six hours. Completing the form takes 10 minutes which is great news for customers who are looking for a fast delivery.
The Disadvantages
Everything looks great so far but are there any drawbacks our Blue Sky Formations review has uncovered?
The lack of information on their website
Unfortunately, there is one major drawback and that is the lack of information on their website about two things – the company in itself and the company formations process. There is very little information about Blue Sky Formations as a company which can be interpreted as a lack of transparency.
But the most important thing of all is the lack of information about the company formations process. This can become an issue for first time customers or for people who have never been through this kind of process before and are just starting in this business niche.
Not knowing beforehand what this process entails could force this category of customers to call customer support, find the information elsewhere, or go through the process in itself just to see what it's all about.
Summary
As this Blue Sky Formations review comes to an end, we can conclude that one of the things you might love the most about it is the quality of service you will be getting if you decide to work with them.
Their prices are not the lowest on the market but they are still low enough to justify choosing one of the five packages they have to offer.
The company also has a vast array of extra services that add value for money to the process which also makes us highly recommend this company to you. The downside is there's not much information available on the company.
Top-Rated Company Formation Agents