Rated #16 Best UK Company Formation Agent
Ease Of Use = 8.6
Value For Money = 9.3
Customer Support = 9.0
Services Offered = 8.4
PROS:
Some of the lowest prices on the market (on larger packages)
The company formation process only takes a few hours
You can register different types of companies using their system
CONS:
Process is more complicated then with other companies of this type
They don't offer as many services or packages as many other formation agents
You can only register a company online and not over the phone
Company Wizard Review – They position themselves as one of Britain's top companies when it comes to company formation.
According to their own statements, they can provide a very fast, cost effective, and simple way to register your limited company.
While it is true that they offer some of the lowest prices on the market, their process is not as simple as it might seem. Plus, the packages they offer might not be able to cover every customer's needs, seeing as they provide fewer packages then most other similar companies.
As a result, this Company Wizard review aims to find out if the claims they make are true.
Claim A FREE Guide To Completing Your Company Formation:
At a Glance
Company Wizard has been operating on the British market for 10 years, and according to them, in this time they have registered 100,000 British companies with 98% positive feedback.
The company offers four basic formation bundles as well as a few additional or corporate services that includes company documents and templates, VAT registration, HM Treasury Financial Sanctions Search, and more.
Starting A UK Business?
Get rid of the confusion and always know what to do next with Startup Hive, the step-by-step platform created by the Business4Beginners team.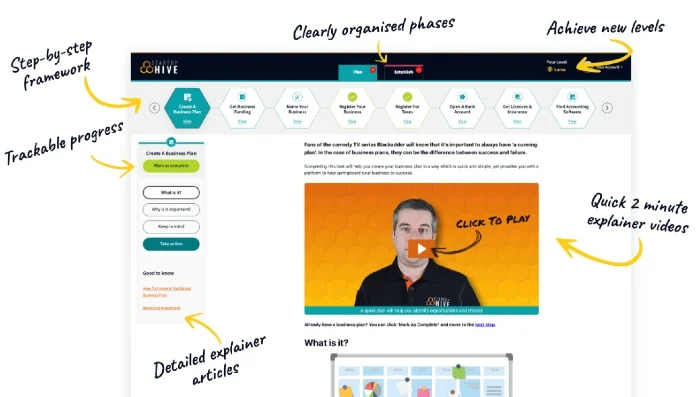 Also includes:
+ Free Bookkeeping Software
Join today for 100% FREE access to the entire Plan phase, taking you from generating and validating your business idea, through to registering your business and ensuring all your key responsibilities are taken care of. You'll end the phase by preparing your mindset to cope with being self-employed.
"Excellent guide to build your business"
"The perfect starting point"
"Incredibly simple and intuitive to use"
Get clear actions to follow then mark steps as complete to track your progress to your ultimate goals. Use the built-in AI tools to power up your ideas and easily generate PDFs that showcase your ideas (including a one-page business plan).
Startup Hive is your trusted companion as you look to turn all of your business dreams into reality. Join today for free.
—
Which Company Formation Package Is Right For You?
Answer 5 multiple choice questions to get a personal recommendation:
How Does The Company Wizard Formation Process Work?
One of the most important things we need to cover in this Company Wizard review is their process of forming a company. The reason is that this process is a little more complicated than with other similar companies and it includes more steps.
It is also worth mentioning here that the process of forming a company can only take place online, on their website seeing as they do not offer phone support as many other companies of this kind do. Here are the steps.
Register on the website
The first step of the process requires you to register on the Company Wizard website. You will have to provide some contact details as well as a valid email address.
Check your company name
If you already know what your future company's name will be, you can enter it in the system. It will be automatically checked to see if the name is still available for registration.
If it is, the website will indicate it as valid or green. At the same time the system will make sure that the name you have chosen does not contain any sensitive words that might be detrimental to your company.
Registered office
This is the address where all forms and statutory documents will be sent. Company Wizard asks you to take into account the fact that this address must be an UK address. However it can be both business or residential.
At this point in time according to them it would be a good idea to consider adding an extra service from the package they offer, such as their Registered Office Address service. For them, this is located in Kensington taking advantage of a prime location there.
Statement of capital
During this step of the process you will be able to declare any shares you might own as well as associated voting and dividend rights. According to the statement on their official website, Company Wizard only wants to know information about the denomination of your shares.
Personnel
This is the part of the process where you will have to select any kind of appointments you want to make as well as include all the relevant details about them. This means the names of your personnel's date of birth, address, and nationality.
If there are any shareholders in your company, this is the step of the process where you will have to declare the number of shares issued.
SIC codes
Once you reach this step, you must supply a classification code for your new company. The code will state what type of business activity you will be engaging in once your new company comes into existence.
As per their own statements, Company Wizard has made this process very simple seeing as it allows you to search by keyword and then enter any code you think is relevant for your company.
Additional services
This is the step where you can add any extra services or items that you think might be relevant for the type of business you will be conducting. Company Wizard's official website states that many of the prices for these additional items have been reduced at the moment of writing this review.
Submit the form
Once you have gone through all of these steps and have completed the payment, you can submit it. Your application is now being processed and reviewed by Company Wizard.
According to them, the entire process should only take three to four hours. If your application fails for any reason you can resubmit it without any changes as many times as you like.
Company Wizard offers for basic bundles as follows:
The Basic Package – also called the digital package – is the simplest type you can choose and will get you the digital documents in the shape of a PDF as well as an optional bank account among other services.

The Standard Package – also called the credit package, will get you free accounts filing reminders, real time order tracking, as well as a printed document of incorporation, and more.

The Executive Package – or the all-inclusive package is the most expensive package you can get with Company Wizard. You will get first board minutes, a gold embossed hardback company registered, two bound copies of your memorandum and articles, as well as everything else that the two other packages offer.

The Guarantee Package – also called the package for non-profits is an extra package offered by Company Wizard. As the name suggests, this pack is perfect for non-profit organisations such as clubs, voluntary organisations, or charities.
Fees
Fees are a very important part of this Company Wizard review seeing as they will be highly important for you as a customer. Company Wizard offers some of the lowest fees on the market for a company of its kind.
For example, its basic or Digital Package goes for £16.95 and evidently it is the cheapest package you can choose. Their most expensive package is the Executive pack also called the All-Inclusive pack and costs £54.99.
The middle package you can choose offered by Company Wizard is called the Standard or Print package and it costs £27.99. As mentioned above the company also offers a Guarantee or Non-profits package which is extra and costs £44.99.
It is also worth mentioning that there are additional services although very few in number. They are also very low priced in comparison to other offers from similar companies on the British market.
Here are some examples of their extra services and the prices they go for: Business forms and templates run between £9.99 and £19.99, Legislation and Apostille services cost £95 plus VAT per week, while their VAT registration services run for £23.95.
Value for Money
As far as this objective Company Wizard review goes, the idea of value for money might be a bit of a debate. On one hand it is true that everything that we have reviewed so far about this company leads us to believe that once you decide to work with them you will receive good value for your money.
The company has some of the lowest prices on the British market both for its company formations services and for its corporate services.
However, they do not have a vast plethora of services to offer to begin with. Company Wizard has three basic packages and an extra one for non-profit organisations and only a very small number of corporate services in addition to that. As a result, their prices are low but so is their offer.
Company Wizard Reviews From Customers:
i am using The Company Wizard more than 5 years and i found this is excellent and very user friendly. Easy to create new company and manage it very well. 5 Star software.

5-Star review from MIRZA via Trustpilot
At first, it was a bit daunting, as I wanted to do something that was not automatically setup on my Dashboard. However, the Company Wizard ended up getting everything in place, the way I asked, and then this went quickly. I would recommend them if you are looking to open a UK company.

5-Star review from Michelle N via Trustpilot
The Advantages
As we've seen so far in this Company Wizard review there are both good things and bad things to take into account when deciding whether or not to form a company with them. As a result let's take a look at the pros and cons.
Very low prices
There is no denying that Company Wizard offers some of the lowest prices on the company formation market in Britain. Their cheapest package costs only £16.95 while their most expensive one, the Executive All Inclusive pack costs £54.99.
Therefore, as a customer who is interested in quality but also is on a budget, Company Wizard will be able to cater to your needs while also looking after your wallet.
Good online feedback
There are plenty of positive reviews from people who have already worked with Company Wizard on setting up a company and who have been more than thrilled to go through their process. As a result, this positive feedback should give you an idea about Company Wizard as a good and reliable business partner.
Experience in the field
According to their own statements, Company Wizard has more than 10 years of experience in this niche. During this time they have set up over 100,000 British companies and have received 98% positive feedback.
The Disadvantages
As mentioned above, there are a few drawbacks to working with this company, so now our Company Wizard review will take a look at them.
A small number of bundles
Unlike other companies of this type on the British market, Company Wizard only offers three basic company formation packages and one extra bundle which is intended for non-profit organisations. As a result, the packages they offer might not be able to meet the needs of every single client out there.
Small number of corporate services
Building on the above, the same goes for the extra services that they offer. As opposed to other companies within this niche, Company Wizard only offers a few extra corporate services which again might mean that you won't find what you need during the setup process. Which brings us to this.
A complicated setup process
Unfortunately the setup process that Company Wizard asks you to go through while setting up your company or brand is a little more complicated and involves a few more steps than with other companies of this kind on the British market. However, this can be seen in a subjective way.
Since the company walks you through every single step in detail and you don't mind spending a little more time on the setup process in itself if it means you can save some money, this can also be perceived as an advantage.
However, if what you want is a process that is as simple as possible, then you might need to work with a different company which can offer that.
Summary
We have reached the end of this Company Wizard review so it's time to draw some conclusions. The company in itself offers some of the lowest prices on the market. However that comes at a cost.
Company Wizard has only three company formations packages and one extra package intended for non profit organisations as well as only a handful of extra services.
At the same time, the setup process in itself is slightly more complicated than with other companies and might prove more time consuming.
Therefore, it's up to you what you want to choose – low prices or better services.
Top-Rated Company Formation Agents