Rated #13 Best UK Company Formation Agent
Ease Of Use = 8.7
Value For Money = 9.4
Customer Support = 8.9
Services Offered = 9.1
PROS:
The possibility to form different types of companies including social enterprises
They offer specialist services such as administrative company restorations
You can choose only the services that you need instead of buying a package.
CONS:
Must provide valid ID and address to be accepted
No information on their official website about the company formation process in itself
Website looks a little dated
1st Choice Formations review – the company promises speed and transparency when it comes to setting up your company.
They claim to have an extremely fast online process that only takes 5 steps to form your company and a mere 24 hours to process your order.
They are very unique company within this niche seeing as they do not offer packages or bundles as most formations companies usually do. Instead, they offer their customers the chance to pick only the services they need. The idea here is that bundles and packages have over inflated prices which they are trying to avoid.
Has this concept worked? This is what this 1st Choice Formations review will try to find out.
Claim A FREE Guide To Completing Your Company Formation:
At a Glance
1st Choice Formations is a company formations agent fully authorised by Companies House. According to their official website they offer a very simple and quick formations process that only takes 5 simple steps to register a company online.
One of the things they pride themselves most in is their transparency. 1st Choice Formations does not have any hidden charges and does not practise any price increases when it comes to renewals.
At the same time, this is a very unique company in the sense that unlike most formations companies on the British market they do not offer packages or bundles. Instead they allow their customers to pick only the services that they need.
1st Choice Formations states that this strategy will benefit the customer since it is a more budget friendly option. According to them, packages and bundles have overinflated prices and force customers to buy services they do not need alongside the ones they actually wanted to begin with.
Starting A UK Business?
Get rid of the confusion and always know what to do next with Startup Hive, the step-by-step platform created by the Business4Beginners team.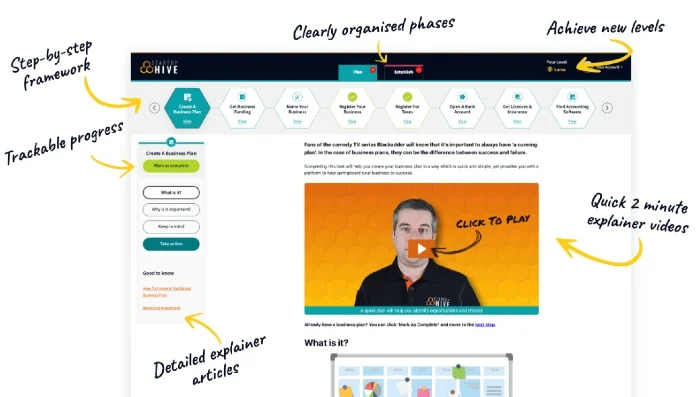 Also includes:
+ Free Bookkeeping Software
Join today for 100% FREE access to the entire Plan phase, taking you from generating and validating your business idea, through to registering your business and ensuring all your key responsibilities are taken care of. You'll end the phase by preparing your mindset to cope with being self-employed.
"Excellent guide to build your business"
"The perfect starting point"
"Incredibly simple and intuitive to use"
Get clear actions to follow then mark steps as complete to track your progress to your ultimate goals. Use the built-in AI tools to power up your ideas and easily generate PDFs that showcase your ideas (including a one-page business plan).
Startup Hive is your trusted companion as you look to turn all of your business dreams into reality. Join today for free.
—
Which Company Formation Package Is Right For You?
Answer 5 multiple choice questions to get a personal recommendation:
How Does The 1st Choice Formations Process Work?
Unfortunately, the 1st Choice Formations official website does not provide any details about the process they have in place when it comes to company formations. As a result, this is a major drawback since this is a fair and objective 1st Choice Formations review.
The only thing they mention on their official website is that their company formations process is quick and simple and that it only has five steps. However, there are no details about the five steps in themselves.
If we were to make an educated guess, we could probably assume that the five steps they are referring to on their website are similar to the traditional steps involved in forming a company online.
Still, since this is not actually mentioned on their official website, and if you feel like you need to know more details, the best thing to do is to get in touch with them. The process has the following probable outline.
Find a name for your company
The 1st Choice Formations' official website actually approaches this topic in quite some detail. Not necessarily as part of their companies formations process but simply because they believe it is crucial since the name you must choose for your company must be approved by Companies House.
From the point of view of this 1st Choice Formations review, it's a very positive thing that they have decided to include such a wealth of information on this particular subject.
On their official website you will find all the details you need about choosing a company name such as the rules and regulations that Companies House has when it comes to controlling the choice of your company name.
This will make it very easy as well as safe for you to choose the perfect name from the beginning, thus saving you time and effort.
Choose the services that you need
As mentioned earlier in our 1st Choice Formations review has established itself as a unique brand in the company formations niche. From this point of view it does not offer any bundles or packages as most other formations companies do.
It is their opinion that bundles and packages are somewhat overpriced and force customers to buy a set of services that they do not need as opposed to only purchasing the services they initially intended to buy.
As a result they offer a vast range of services that you can literally pick, choose, and mix to get the perfect combination that will satisfy your needs. 1st Choice Formations offers services for many types of companies such as the following:
Limited company formation's services
Limited company with VAT registration
Limited company with registered office
Companies for non-UK residents
Limited liability partnerships
Registered office and address service
Community interest company
Limited by guarantee company charity
Limited by guarantee company
1st Choice Formations also offers many extra services that you can add to your mix such as Company restoration services, Limited company name protection services, Small business support and more.
Buy your selected services online
When you have finished choosing the services you need, add them all to your basket and proceed to checkout. It's important to mention here that 1st Choice Formations only offers this process via their website.
Unlike other formations companies within this niche, they do not have a phone support system where you can call and someone will walk you through the process or go through the steps for you.
Their company formations process is done exclusively online. However, you still have the possibility to call customer support if you need some help.
Fees
No 1st Choice Formations review would be complete without talking about the fees. One of the best things about this company formations agent is the fact that it offers some of the lowest prices on the market.
This could be a result of the interesting concept they have in place of not offering packages or bundles but single services. The price is surely reflected in that.
For example if we were to take the prices they offer for a Limited company formations here is what you would have to pay in terms of services. £13 for the Limited company formation services which is pre selected when you choose this option, 4 for printed certificates, £26 for VAT registration, £15 for registered office, and £10 for business telephone.
As mentioned, the Limited company formations service is pre selected. You will have to add anything else you want to your basket yourself.
When you choose the service, you will get a ready to trade company limited by shares as well as all the company papers emailed to you in the shape of a PDF and an authentication code to update your Companies House records.
But you will also get some optional free services such as a referral to a High Street bank if you are a UK resident, an one hour consultation with an accountant – online or face to face, a referral to an accounting Bureau and the payroll Bureau, an introduction to an online accounting software and more.
Value for Money
Seeing all of the above as well as the low prices that 1st Choice Formations offers, it would be fair to say that you will receive good value for your money.
The company has had a very interesting idea when it decided to get rid of the traditional packages and bundles and instead offer you the opportunity to choose only those services that you actually need.
In this sense you can add to your cart and pay for exactly the options your company will use, which is fantastic value for money.
1st Choice Formations Reviews From Customers:
I will recommend 1stchoice Company Formation. Their services are great and prompt, customer service is at it's best and the level of their delivery of service is at topmost standard.

5-Star review from Mr Nzenwa Onukwube via Trustpilot
Outstanding service, 3rd company I have registered through them, value for money and a simple process. Ready the next day as promised. Always recommend them to my clients.

5-Star review from Phillip Silk-Neilsen via Trustpilot
The Advantages
Choosing 1st Choice Formations seems like an interesting idea given their novel take on company formations. What are the other advantages our 1st Choice Formations review has found?
Very low prices
Given the fact that 1st Choice Formations doesn't offer bundles or packages, you might find that their prices are very budget friendly.
The reason is that, according to them, when you purchase a bundle or package, you have to pay a fixed price that covers every single service within it including the ones you might not need or might not have been interested to begin with.
Therefore, they only offer stand alone services that you can pick and mix by adding them to your shopping cart. This option is perfect for people who are on a budget.
Transparent renewal practises
The 1st Choice Formations Registered Office service comes with a free address service meant for the company secretary, the directors and the shareholders.
When you renew this service every year, nothing will change according to the claims they make on their official website. Also according to their statements, their competitors charge extra after the first year and they increase their renewal fees substantially which is something that 1st Choice Formations will never do.
They offer specialist services
1st Choice Formations also offers a set of specialist services alongside their company formation agents. These include Community Interest Companies as well as Administrative company restorations. As a result, you will be able to take care of all your business needs in one place and in a very short time should you need to.
A large variety of affiliate services
The company has a vast array of useful services that they offer to startup companies. This includes banking accounting software such as Sage and Xero, accounting, digital marketing, and more.
The Disadvantages
Since this is an objective 1st Choice Formations review, let's take a look at the disadvantages of choosing them as your business partner.
No details about the company formation process
The most important drawback this review has been able to find is the fact that unfortunately they do not offer any details about their company formation process on their official website.
Of course, if you have already been through this type of process before and are somewhat familiar with it, you might already know what to expect.
However, if you are a beginner and would like to know more details about what the process entails, you won't find them here. As a result you will either have to contact them to ask what to do or simply go through the process itself.
Summary
Let's round up this 1st Choice Formations review with some conclusions. Without a doubt the two most important things you need to know about the company are as follows.
They have a very interesting setup in place in the sense that they do not offer bundles or packages but stand alone services.
As a result, according to them this makes for a very budget friendly concept that allows you to pay only for the services you actually need.
The second thing is the fact that their prices are very low as a result of the unique business concept they have to offer. Therefore, this can be seen as very good value for money together with the fact that they also offer a very vast array of affiliate and extra services.
If this unique way of handling company formations speaks to you, we highly recommend this company.
Top-Rated Company Formation Agents