Rated #7 Best UK Company Formation Agent
Ease Of Use = 9.5
Value For Money = 9.2
Customer Support = 9.4
Services Offered = 9.1
PROS:
Free chat and phone support
They offer 30% off on custom design websites
Some of the prices are pretty low
CONS:
Their all inclusive package is one of the most expensive on the market
Mint Formations review – The company brands itself as a "Lightning fast and easy company registration" agent. They claim they can set up your limited company in less than six hours.
They have a very simple and straightforward company formations process as well as exclusive deals and company formation offers that they can negotiate with you free of charge.
As always, let's use this Mint Formations review to breakdown all the claims they make and see if they hold true.
Claim A FREE Guide To Completing Your Company Formation:
At a Glance
According to their own statements, Mint Formations is an agent that is involved in the entire entrepreneurial journey of a company from the time when its owner decides to register it to the latter stages, meaning the company's growth as well as business consultancy and accountancy.
In this regard, Mint Formations claims to have more than 100 years of combined industry experience.
Also according to their own claims, they have worked with hundreds of small businesses as well as startups in all the industries to help them launch their brands.
Starting A UK Business?
Get rid of the confusion and always know what to do next with Startup Hive, the step-by-step platform created by the Business4Beginners team.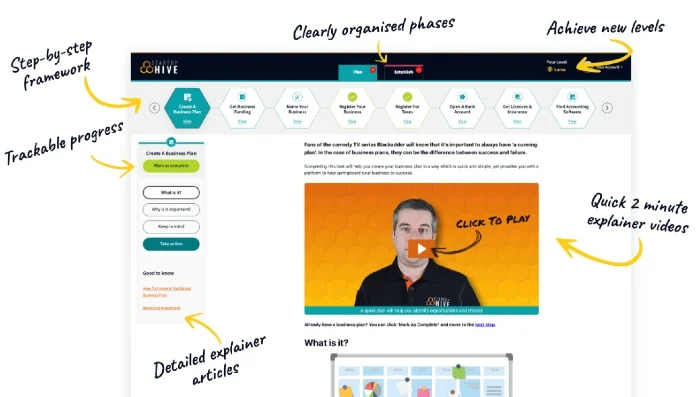 Also includes:
+ Free Bookkeeping Software
Join today for 100% FREE access to the entire Plan phase, taking you from generating and validating your business idea, through to registering your business and ensuring all your key responsibilities are taken care of. You'll end the phase by preparing your mindset to cope with being self-employed.
"Excellent guide to build your business"
"The perfect starting point"
"Incredibly simple and intuitive to use"
Get clear actions to follow then mark steps as complete to track your progress to your ultimate goals. Use the built-in AI tools to power up your ideas and easily generate PDFs that showcase your ideas (including a one-page business plan).
Startup Hive is your trusted companion as you look to turn all of your business dreams into reality. Join today for free.
—
Which Company Formation Package Is Right For You?
Answer 5 multiple choice questions to get a personal recommendation:
How Does The Mint Formations Process Work?
Just like they mention on their website, one of the things they are most proud of is just how fast and simple the process of forming a company with them really is.
Mint Formations promises that it takes under 6 hours to register a company and that the process in itself only has a few very simple steps that you have to go through.
Since this is a Mint Formations review, let's take a look at their process in detail and see if it really is that simple and fast.
Choose a company name
As usual with most companies of this type, the first step of the process asks you to choose a name for your new company or brand. Since the name is very important, Mint Formations offers a free search engine on their website or via our handy tool below:
Here you can check and see if the name you have chosen is free for registration or if it is safe for use, meaning if it doesn't have any sensitive words within it.
Select the package you think fits you best
Mint Formations offers 5 company formations packages, as follows:
The Digital Package – this is the most basic package that you can buy from this formation agent. It will allow you to register a limited company, but it will not provide you with home address protection.

The Privacy Package – this is the package through which you can register a limited company using your home address for which you will receive protection. Otherwise you can choose to get the Mint Formations London registered office address.

The Premium Package – the third package that the company offers will provide everything that the first two list as well as HMRC VAT registration. Apart from that, Mint Formations will also liaise with government services on your behalf.

The All-Inclusive Package – this is a total compliance package that includes everything all the other packages have plus PAYE registration.

The All-Inclusive Premier Package – as is the case with all the other packages that Mint Formations has to offer, this one encompasses all the features that every other package contains plus an office address in Knightsbridge, London. This is by far the most expensive package that the company has to offer, being over five times more expensive than the all-inclusive package.
The Mint Formations company also offers a very large range of business services that include banking, address, Companies House, legal, as well as logo and web design services.
Checkout and pay
Once you have selected the package and additional business services you think are fit for your needs, you can proceed to the checkout. According to their own statements, when you reach this point of the process, you will receive some free offers as well as optional add-ons that you can add to your cart.
The fine print on the official Mint Formations website mentions that these free offers, in fact mean that the formations agent will fast track your business account for free. Please take that into account when making your choice.
Submit your company details
The last step of the process will ask you to add all the relevant information about your company so that Mint Formations can proceed to register your new limited company as quickly as possible. As per their claims, this should happen in under 6 hours.
Fees
Since we have already talked about all the bundles and packages as well as additional business services that this formations agent has to offer, an interesting point in this Mint Formations review would be to also look at the prices they practice.
As a potential customer of the Mint Formations company, you will be pleased to find out that they offer some of the lowest prices in this business niche.
For example, the most basic package you can purchase with Mint Formations is also the cheapest. It costs £11.99. The Privacy Package retails for £29 while the Premium Package retails for £49.
The most expensive packages they have to offer are the all-inclusive ones. The basic all-inclusive package costs £99. At the moment of writing this Mint Formations review, there is a discount for this bundle. It has been reduced from £149. The same goes for the all-inclusive Premier package. It costs £544 down from £1,069.
When it comes to their business services, the prices differ depending on what you need. For example, their registered office address in London service costs £35 per year, their website design service costs £69 per month for a professional website and £99 per month for a corporate website, while their business email address service costs £49.
It's important to mention here that all of the prices listed will come with an additional VAT. Please take that into account.
Value for Money
The Mint Formations company offers 6 formations packages at some of the lowest prices on the market. The formation process in itself is very easy to follow since the steps are straightforward and clear.
Not only that but the company also offers a very large range of additional business services plus free customer support that has garnered a lot of positive online feedback.
Taking all of these positive aspects into account, this Mint Formations review can only conclude that if you choose to work with them you will be receiving a lot of value for your money.
Mint Formations Reviews From Customers:
So simple to use and very informative, everything is explained fully so you know exactly which package suits your needs

5-Star review from Mels Wingz n Tingz Ltd via Reviews.io
Very delighted with my experience with Mint Formation for my business incorporation. Mint Formation deserve to be well recommended for the prompt actions, clear guidelines and the exceptional support.

5-Star review from Anonymous via Reviews.io
The Advantages
As we've already seen, choosing the Mint Formations company as your business partner has a lot of positive aspects that you may love. But are there any drawbacks to working with them? Let's use this Mint Formations review to find out.
Very low prices
If budget is an important criterion for you, and it might as well be, then you will be happy to find out that the Mint Formations company offers some of the lowest prices on the market.
Their cheapest formations package is only £11.99 while the rest, such as the Print, the Privacy, and even the Premium Package do not go over the £50 price point. This can be considered good value for money if you're on a budget.
A very large range of business services
Most formations companies on the British market strive to offer their customers as many additional services as possible. The idea is that extra services or add-ons will make the process so much easier for the customers and provide them with everything they need to build up their company in one place.
But the Mint Formations company goes above and beyond that. In the sense that they have one of the largest ranges of additional business services in this niche. It comprises Companies House services, addresses, banking, legal and other business services, and web design and logos.
Great customer support
The Mint Formations company prides itself in the customer support they offer. You can reach them via chat and phone for free from Monday to Friday during business hours.
But the most important thing is that, according to their claims, they will not keep their customers waiting on the phone, since they strive to take every call within minutes. Apart from that, they promise that every email they receive from customers is answered on the same day.
The formations process is very simple
As per their own statements, the company formation process they have in place is very simple and straightforward. As a customer setting up their limited company for the first time, you will only have to go through a few steps that are very clearly explained on their official website.
In fact, it's as simple as searching for your company's name to make sure it's still available, choosing the package that suits your needs best, adding it to your basket, filling in your company's details, and you're done.
Mint Formations will take care of the rest for you. This is perfect for customers who have never done this before and are beginners in this niche.
The Disadvantages
Let's make this Mint Formations review fair and also take a look at the disadvantages of working with them.
Their all-inclusive package is very expensive
As expected, there isn't a lot to add in this section of the review. However, there is one thing that you should be aware of.
Despite the fact that this formation agent practices very low prices, one of the packages that they offer is extremely expensive compared to everything else on the market. This is their All-inclusive Premier package which retails for £544 plus VAT.
Summary
There are many positive aspects about this formations agent that we have highlighted in this Mint Formations review. The most important aspects are definitely the low prices they offer, as well as the gigantic number of extra business services you can choose from, but also the great customer support they have in place.
The company has also managed to set up a very simple company formations process that will save you a lot of time when trying to establish your new company or brand. As a result, we are happy to recommend Mint Formations to you.
Top-Rated Company Formation Agents