Rated #8 Best UK Company Formation Agent
Ease Of Use = 9.4
Value For Money = 8.5
Customer Support = 9.1
Services Offered = 9.8
PROS:
Wide range of services and packages to choose from
The pricing is transparent as there are no hidden fees
Great website with plenty of information on the set up process
CONS:
The packages they offer can be quite expensive
Company Formations 247 review – the company claims to offer you the unique possibility of registering your limited company through a very simple process consisting of five steps and in just three hours.
The company also offers 5 standard packages that have some of the highest prices on the market.
As a result, let's use this Company Formations 247 review to find out if the simple process and reduced time are worth paying the high price of the packages.
Claim A FREE Guide To Completing Your Company Formation:
At a Glance
Company Formations 247 was established in 2008, and according to the statements on their official website, has incorporated more than 100,000 UK companies since then.
Also according to their own claims they are one of the first businesses in Britain that offers "reasonably priced company formations over the Internet."
However, seeing as some of their packages are priced at hundreds of pounds this remains a subjective claim.
Company Formations 247 offers 5 basic packages as well as Ltd Packages and Corporate Services. According to their official website, Company Formations 247 is the trading name of Formations Direct Limited, which means that the team who stands for this company has more than 30 years of experience in this industry.
Starting A UK Business?
Get rid of the confusion and always know what to do next with Startup Hive, the step-by-step platform created by the Business4Beginners team.
Also includes:
+ Free Bookkeeping Software
Join today for 100% FREE access to the entire Plan phase, taking you from generating and validating your business idea, through to registering your business and ensuring all your key responsibilities are taken care of. You'll end the phase by preparing your mindset to cope with being self-employed.
"Excellent guide to build your business"
"The perfect starting point"
"Incredibly simple and intuitive to use"
Get clear actions to follow then mark steps as complete to track your progress to your ultimate goals. Use the built-in AI tools to power up your ideas and easily generate PDFs that showcase your ideas (including a one-page business plan).
Startup Hive is your trusted companion as you look to turn all of your business dreams into reality. Join today for free.
—
Which Company Formation Package Is Right For You?
Answer 5 multiple choice questions to get a personal recommendation:
How Does The Company Formations 247 Formation Process Work?
Unlike other formation companies, Company Formations 247 has a great website that offers a wealth of information which will help you every step of the way when you are trying to set up your own company or brand and are starting from scratch.
The number one thing that the company takes pride in is the fact that they have simplified the company formations process.
As a result, they claim that if you choose to work with them you will be able to set up your own limited company in only three hours, by following 5 simple steps, and that you will be able to trade starting from day one.
It is also important to mention here that Company Formations 247 allows you to start a company both using their website and via telephone by calling the number you will find on their site in case you find that easier. Here is how the process works.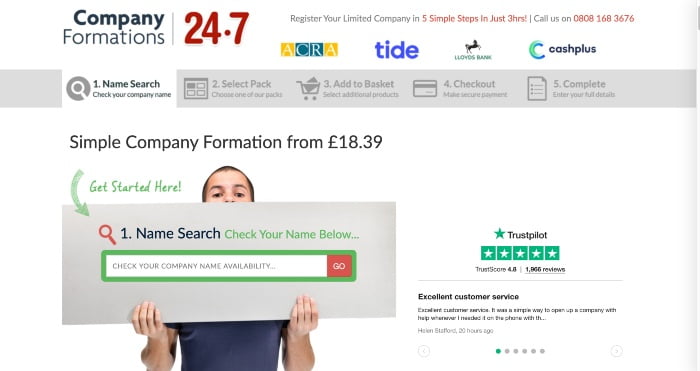 Check if your company name is available
The first step of the process asks you to check whether the name you have chosen for your company or brand is available for registration. This is very easy and will only take a few minutes since the Company Formations 247 website has a name search right on the home page.
Enter the name you have selected in the name search box and check to see if it is still available. If it is, you can then proceed to the next step.
Select the package that suits your needs best
As mentioned above, Company Formations 247 offers 5 standard packages to choose from. Let's look at them in detail.
The Bronze Package – it is the basic company formations pack that will secure you all your corporate documents in the shape of an email.

The Silver Package – the company formations pack that will allow you to maintain your statutory records. They also call it their hard copy pack.

The Gold Package – also called the privacy pack, this provides you with an address as well as the company's registered office.

The Platinum Package – they call it the comprehensive pack seeing as it comes with a PAYE and a VAT registration as well as an HMRC.

The Diamond Package – the most expensive of them all, it is also called the complete business pack. It comes with a registered office and the full Mail forwarding service, as well as VAT and PAYE registration.
It is also worth mentioning during this section of the Company Formations 247 review that they also offer an International Package. According to their own statements this pack has been tailored to meet the requirements of residents outside Britain.
Apart from these basic packages, Company Formations 247 also offers corporate services. This is actually one of the highlights regarding this company. Their range of corporate services is one of the vastest in this industry and as a customer you might enjoy this aspect of working with this company.
Add extra services
The next step of the company formations process is adding extra services that, according to this company, will make your presence in the business world seem more professional. As a result, you can choose from the large plethora of corporate services they offer, add them to your basket, and proceed to checkout.
Add the officer and address details
The last step of the process requires you to add the officer and address details. After you have proceeded to checkout, all you need to do is complete a few extra details so that the process of forming your new company can get started.
Once you are done you can relax and let Company Formations 247 do the job for you as they themselves put it.
Fees
With the idea in mind of making this Company Formations 247 review an objective one, one of the most important things we need to discuss is the fees they charge. That being said, the company has some of the highest fees on the market.
At the moment of writing this review the price for almost every package they offer has been severely reduced. However, they are still high compared to other companies of this kind on the market.
Not to mention the fact that their prices could still revert to the original amount at any point in time.
As expected, their cheapest package is also the basic one. The Bronze Package costs £18.39. Their most expensive package is of course the Diamond Pack. Originally, the full price of this pack was £713.20. At the moment of writing this review it has been reduced to £209.19. The rest of the packages vary between £38 and £117, all reduced from £74 to £325 originally.
When it comes to their corporate services, unfortunately unlike other company formations brands on the market, they don't show the fees they offer on their official website.
With the exception of small services such as London Registered Office Service which costs between £30 and £72. If you are interested in any of their other corporate services, the best thing to do would be to contact them directly.
Value for Money
This is an intriguing point as far as this Company Formations 247 review is concerned, mostly because the company practises such high prices.
On the one hand the company offers 5 solid packages that will cater to your every need as well as an international package and a large variety of corporate services to choose from.
Apart from that, when it comes to company formations in itself you can set up different types of companies such as limited, limited by guarantee, public limited, ready made and aged, right to manage companies, and many more.
The process of setting up any kind of company is quite simple, easy to follow, and only takes 3 hours according to the company's claims. As a result, the fees, even though they are quite high, seem to be worth it.
Company Formations 247 Reviews From Customers:
Fast efficient service. I was kept up to date with progress and any queries were answered personally by the formations team by return. Best I've used, a pleasure not to be bombarded with 'add-ons' an upgrades.

5-Star review from Matthew Evans via Trustpilot
very helpful company to deal with dealt with issues very quickley would highly recomend

5-Star review from Timothy Healy via Trustpilot
The Advantages
it's time to look at the pros and cons of working with Company Formations 247 as the only way to decide whether this company will be a good fit for you or not.
Simple and fast process
The process they have in place for creating a company or brand is very simple and according to them, it only takes 3 hours.
All you have to do is choose a name for your company, check to see if that name is still available for registration by using the name checker they have on the homepage of their website, select the package that suits your needs best, add the extras you think could help you, and proceed to checkout. That's all it takes.
A vast plethora of corporate services
Company Formations 247 offers one of the largest numbers of corporate services on the market. As a result, the company will be able to meet your needs no matter what you might be looking for when starting a company, be it mail forwarding, service address, statutory books, business bank accounts, and more.
You can create different types of companies
When choosing to work with Company Formations 247, you can create several types of companies not just a limited company.
For example you can also create an unlimited by guarantee, a limited liability partnership, a flat management, a right to manage, a public limited company, and more.
This is definitely an advantage since Company Formations 247 covers every aspect of the market.
The Disadvantages
As great as this company might be, this is a fair Company Formations 247 review. Therefore, we need to take a look at the disadvantages as well.
The high prices
Needless to say Company Formations 247 practises some of the highest prices on the market. At the moment of writing this review they are all discounted. Even so they are still higher then other formations companies.
This might be a disadvantage for some customers who are simply looking for low prices and value for money.
Not so fast process
It's important to mention here that while they claim that their company formations process only takes 3 hours, the global situation that is taking place at the moment of writing this Company Formations 247 review has become a problem for them.
As a result the are no longer able to offer same day company formation services. This was one of the major selling points of the company to begin with. This evidently questions the idea of value for money.
Summary
Although Company Formations 247 is a solid and trustworthy company that offers a simplified company formations process that usually takes only three hours.
As per their own statements, there are a few factors that might take away from that, as this Company Formations 247 review has shown.
Their higher than average prices as well as the fact that the current global situation has kept them from being able to offer same day services as they might normally do, makes working with this company more a question of preference than anything else.
Top-Rated Company Formation Agents