Rated #11 Best UK Company Formation Agent
Ease Of Use = 9.2
Value For Money = 9.0
Customer Support = 9.4
Services Offered = 8.8
CONS:
Extra services can be quite expensive
The Formations Company holds the bold claim of being able to set up your company in only five minutes given how easy their 4-step process really is.
Their services come in the shape of bundles and they offer expert advice in case you don't know which package is right for you.
Let's break all this down in our Formations Company review and see exactly if their services are as easy to use as they claim.
Claim A FREE Guide To Completing Your Company Formation:
At a Glance
The Formations Company was developed in 2009 and since then it has helped over 750 000 companies to start their business. They offer four standard formation bundles and two extras – the International one and the one for Contractors.
But the Formations Company also offers additional services such as banking, business insurance, trade marks, online and social media services, accountancy, credit insights and more.
Starting A UK Business?
Get rid of the confusion and always know what to do next with Startup Hive, the step-by-step platform created by the Business4Beginners team.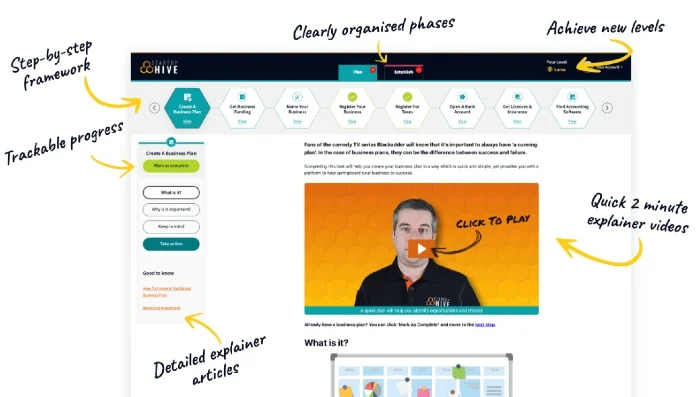 Also includes:
+ Free Bookkeeping Software
Join today for 100% FREE access to the entire Plan phase, taking you from generating and validating your business idea, through to registering your business and ensuring all your key responsibilities are taken care of. You'll end the phase by preparing your mindset to cope with being self-employed.
"Excellent guide to build your business"
"The perfect starting point"
"Incredibly simple and intuitive to use"
Get clear actions to follow then mark steps as complete to track your progress to your ultimate goals. Use the built-in AI tools to power up your ideas and easily generate PDFs that showcase your ideas (including a one-page business plan).
Startup Hive is your trusted companion as you look to turn all of your business dreams into reality. Join today for free.
—
Which Company Formation Package Is Right For You?
Answer 5 multiple choice questions to get a personal recommendation:
How Does The Formations Company Process Work?
The number one thing they pride themselves on is just how fast and easy the entire process is. Therefore, our Formations Company review has to focus on this and see if it stands true.
As mentioned, the company claims on their website to have a process that will only take five minutes, no matter which bundle you choose. This means we will also have to talk about the bundles they offer and what they are. The process works as follows:
Find a suitable name for your company
Your company name should represent who you are or what your brand stands for.
Choose the bundle you think will fit you best
The Formations Company offers four Standard bundles, as follows.
The E-Formation bundle will help you set up a very basic Limited Company. You can add all the extras you want.
The Essential bundle is meant to set up a company that is ready to trade. As a plus, you get official printed certificates.
The Entrepreneur bundle will set up the company, get you your official certificates, the company registers, and a registered business address which you can use for free for three months.
The Super bundle gets you the company, your official documents, a confirmation statement, and a registered business address for an entire year for free.
The Formations Company also offers two extra bundles – the International Bundle that will get you all you need to start trading as a basic limited company in the UK, and the contractors bundle, which is meant for consultants, tradespeople, professionals, and creatives.
Buy your chosen bundle online
The Formations Company asks you to buy the bundle you have selected online, where they offer some discounts as you will see below in the Fees section of this Formations Company review.
Fill in the details
The last step of the process asks you to fill in your details and then allow the company to do its job in your stead. Once all of these steps are completed, you will be able to start trading as a company.
The Formations Company will also provide you with support and legal advice throughout this process, like they stipulate on their website, in case you need it.
Fees
Here is another very interesting section from the point of view of the Formations Company review. Mainly because they claim on their website to be the cheapest company of their kind in Britain.
They also state that there will be no surprise costs or hidden fees once you decide to purchase one of their bundles. Which brings us to this.
The costs of their bundles vary from £9.99 for the E-formation bundle to £99.99 for the Super Bundle. While their prices are definitely competitive, they might not exactly be the cheapest, since other companies of the same kind can offer roughly the same prices. Still, there is no denying their prices are low.
The International Bundle starts at £129.99 while the Contractors one starts at £25.98. They also have a deal on their website as well as a discount. Their Super Bundle, which costs £99.99, at the moment of writing this The Formations Company review, includes Mail Forwarding and Free Registered Office.
Their regular price would have been £139.99. The discount represents £50 cashback for people who use a Barclays bank account. Please check their website for up to date discounts and promotions.
Value for Money
The Formations Company review so far does lead us to believe that you receive good value for your money. The company strives to keep its prices as low as possible and to make the process of setting up your own company as easy and fast as it can be.
Apart from that, their customer support has received glowing reviews from real users of their services, which has made the experience with the company all the better, according to them.
The Formations Company Reviews From Customers:
The website is extremely easy to use and the support is excellent, they had helped me every time I had any questions. The chat support puts you in contact with someone straight away! So far I didn't receive any spam from them.

5-Star review from Daniele on Trustpilot
Excellent service, good value and help provided all the way through the process if required – although the step-by-step approach really cannot be faulted in my opinion. Overall great service and would highly recommend.

5-Star review from Laura Redfern on Trustpilot
I called this morning to receive some help for my new company .and in fact i came up with all useful information .really good service .thank you very much .

5-Star review from Tamer via Trustpilot
The Formations Company Advert
The Advantages
Using The Formations Company seems simple and straightforward enough, but are there any other advantages to it? Let's take a look.
A high number of bundles
The Formations Company offers a decent number of bundles to choose from. This means they can cater to all your needs, just as they claim on your website, no matter if you want to start a basic limited company or if you are a contractor.
Great customer service
They have received positive reviews on websites such as Trustpilot and many of them speak of how well the company's customer service works. This could be a major pro on your list if you should need some assistance in setting up your company or your account.
A large number of extra services
From accounting to banking to social media and building an online presence, The Formations Company offers a fair number of extra services to choose from. You can add them to any bundle of your choosing in case you feel the need to bulk up your package.
Their process is very simple
One of their main selling points is that they have made the process very simple and have reduced it to only four steps. This includes choosing a name for your company, choosing a bundle, buying the bundle online, filling in the details, and you're done.
The Disadvantages
A fair review of The Formations Company isn't complete without the disadvantages, so here they are.
Their prices are low but still fairly average
The Formations Company claims that they are the cheapest company of its type in the country. However, the review hasn't found enough proof on their website to back that up. It is true that their prices are low, but other companies can offer similar budget options.
Some extra services are quite expensive
Extra services come at a cost and some are quite steep, being priced in the hundreds of pounds. Therefore, if you want to add extra services to your cheap bundles, make sure you check them out first.
Summary
One of the best things about The Formations Company is that it has low prices, although not the cheapest as they claim on their official website. If you decide to work with them, you might also enjoy their good customer support, much like other customers have based on their reviews.
The company also offers a simplified process that could save you time and effort and a plethora of extra services. It's not difficult to see why customers opt for the Formations Company.
Top-Rated Company Formation Agents