Rated #17 Best UK Company Formation Agent
Ease Of Use = 9.3
Value For Money = 8.1
Customer Support = 9.2
Services Offered = 8.6
PROS:
It's relatively easy to use and the customer support levels are good
Their official website has a knowledge center with all the information you need
CONS:
A small number of company formations packages
Basic company formation prices are fairly high
Simple Formations review – the company prides itself in being able to offer same day company formation services at low prices and with no hidden fees.
At the same time, they also state they form thousands of companies every year given the fact that they have extensive experience in this field.
On the other hand, an objective look at the services they offer will immediately show you that the number of company formations packages or bundles is quite smaller than what you can usually see on the market.
As a result, this Simple Formations review will intend to find out if they have managed to meet their goals either way.
Claim A FREE Guide To Completing Your Company Formation:
At a Glance
According to the their own statements, Simple Formations is part of Small Firms Services Limited group of companies. They have been trading since 1998, and claim to be one of Britain's longest standing company formation agents.
The team of trained company formation advisors at Simple Formations is able to offer expert advice as well as valuable services in the shape of 3 company formations packages.
They also offer a wide variety of additional services such as document filing, compliance, banking, and document legalisation.
Starting A UK Business?
Get rid of the confusion and always know what to do next with Startup Hive, the step-by-step platform created by the Business4Beginners team.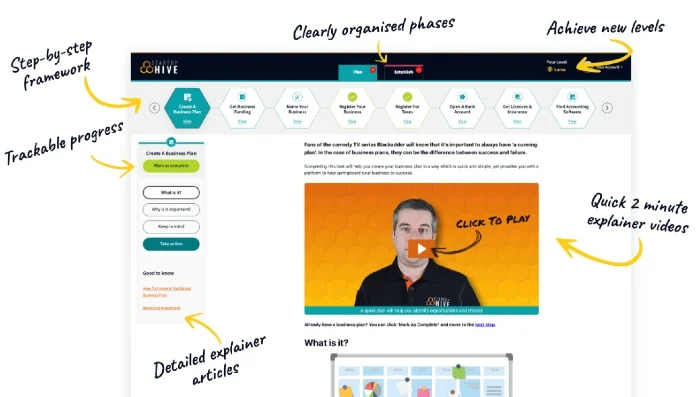 Also includes:
+ Free Bookkeeping Software
Join today for 100% FREE access to the entire Plan phase, taking you from generating and validating your business idea, through to registering your business and ensuring all your key responsibilities are taken care of. You'll end the phase by preparing your mindset to cope with being self-employed.
"Excellent guide to build your business"
"The perfect starting point"
"Incredibly simple and intuitive to use"
Get clear actions to follow then mark steps as complete to track your progress to your ultimate goals. Use the built-in AI tools to power up your ideas and easily generate PDFs that showcase your ideas (including a one-page business plan).
Startup Hive is your trusted companion as you look to turn all of your business dreams into reality. Join today for free.
—
Which Company Formation Package Is Right For You?
Answer 5 multiple choice questions to get a personal recommendation:
How Does The Simple Formations Process Work?
Luckily for all its customers, the Simple Formations company offers a wealth of information on their official website on a variety of topics including the process of forming a limited company.
According to their own statements, the easiest way to do it is to access their website and go through the steps indicated there. This should only take two to three hours, as per their claims.
If you can't or if you find the online process too complicated to go through yourself, you can also call the Simple Formations company and ask for help.
However it is very important to mention at this point that the company does not practice the same prices when it comes to online applications versus telephone applications. As a result, they advise you first to call and discuss the different prices they have for company formations via telephone if you do not wish to set up your company online.
Find the perfect name for your company
Simple Formations encourages you to use the name search they have on their website. This will ensure that you have selected a name which complies with the rules and regulations set in place by Companies House.
This may mean that the name you have chosen does not contain any sensitive words, that it is not too similar to other company names that are already registered, or that the words within the name of your company are not considered protected.
Specify your registered office address
The company advises you to enter a physical location since you will be receiving very important notifications about your company.
In case you do not have a proper address within Britain that you can use as your registered office address at the moment of going through the process of forming your company, you can use one of the office locations provided by Simple Formations.
However, this will count as an extra service, namely the Registered Office Service, and it will be priced accordingly.
Appoint the directors and shareholders of your company
This is the step of the company formation process where you will be asked to name your company directors, your company secretary if you have one, as well as to confirm your share details and your shareholders.
Simple Formations will inform you that the persons you appoint at this point in the process will be entering a legal contract with you. As a result, they will most likely be receiving a credit check.
Appoint the PSCs
PSC stands for persons of significant control. This could, for example, mean someone who holds more than 25% of your company's voting rights, more than 25% of the shares in your company, or someone who has the right to appoint your directors.
Choose the package that suits you best
During the company formation process you will also have to choose one of the packages that Simple Formations offers. This shouldn't prove to be a difficult task as the company currently has only three packages. Here they are in more detail (correct at the time of writing this Simple Formations review).
The Basic Package – this is the bundle that will allow you to set up your limited company and that will get you a set of digital documents. All the Companies House fees are included in this package.

The Standard Package – will get you both your digital and printed documents and will cover the Companies House fees.

The Professional Package – this is the most expensive bundle that Simple Formations offers. It will get you everything else that the other two packages come with plus your company seal.
Apart from these three standard packages, Simple Formations also offers a large variety of extra services. Examples range from document legalisation to document filing services, compliance services, business banking, as well as virtual address services.
Fees
Since this Simple Formations review has already addressed the standard packages that the agent offers, let's take a look at the prices as well.
If we were to talk about placing the Simple Formations company in a price range within this niche in the British market, we could say that their prices are medium. Their basic package costs £28, their standard package costs £38, while their most expensive package, the professional one is £58. There are no discounts at the moment of writing this Simple Formations review.
When it comes to the extra services, they have prices that vary according to your needs. Let's look at some examples.
The apostille service they offer ranges between £66 and £90, the certificate of good standing service is priced between £35 and £70, while their nominee secretary service is priced at £150.
Please note that if you are interested in some of the services they offer you will have to contact them directly to discuss the price points.
Value for Money
No Simple Formations review would be complete without assessing the value for money you get if you decide to work with them. The Simple Formations company is a very clear and straightforward formations agent that practices medium prices within this niche and offers equally simple services.
Their process for forming a limited company is easy to follow and they do offer the option of setting it up for you if you contact them by telephone, albeit for a different price.
The company does not offer unique services or prices meant for customers on a budget. As a result, if you're looking for a simple solution at a medium price when it comes to forming your company, then you will be getting good value for your money.
Simple Formations Reviews From Customers:
Excellent service and great value for money, highly recommended, I dont work for them, Ive had numerous formations from them and they are superb and after slating off a load of rubbish companies I fancied spreading the love with a few I think are mustard!

5-Star review from H BR via Trustpilot
The Advantages
If you're a beginner in this business, if you've never set up a limited company before or even if you have but you just want to know more about Simple Formations in itself, the best way to do it is with a straightforward pros and cons list. We have done all the work for you in this Simple Formations review.
An easy to follow setup process
Simple Formations' process of setting up a limited company is very easy to follow. All you have to do is go through all the steps they indicate on their website, fill in all the necessary details, and according to them, your company should be set up in a matter of hours.
This makes the whole process stress free and as straightforward as possible. Apart from that the company also offers you the option of calling and applying via telephone in case you can't or don't want to go through the online process by yourself.
However, you should know that the telephone applications are priced differently than the online ones.
A large number of additional services
The company offers a wealth of extra services to choose from. They are divided into additional services and virtual address services on their official website.
Paired with the standard packages they offer when it comes to forming a limited company, these extra services can ensure a successful and easy formation process every single time.
Great customer support
Online feedback left by satisfied customers states that the Simple Formations company has a great customer support system in place.
You can reach them via email, chat, or Freephone anytime you encounter an issue. Their availability as well as their willingness to help their customers makes them a trustworthy company.
The Disadvantages
No pros and cons list would be complete without the disadvantages. So, here are some details.
A small number of packages
The Simple Formations company has one of the lowest numbers of packages or bundles that a company in this niche might offer.
At the moment of writing this review they only have three packages when it comes to company formation. Depending on your needs these three bundles may or may not meet your expectations.
Their prices are budget friendly but not the lowest
It is fair to say that Simple Formations practices medium prices which can be budget friendly if this is what you need. However, they are not the lowest on the market.
There are other similar company formations agents that might be able to offer lower prices and a higher number of packages or bundles to choose from which could provide more variety and therefore suit your needs better.
Summary
The most important thing to come out of this Simple Formations review is the fact that they are just that – simple. This company formation agent is a simple and straightforward company with three basic packages to offer and the solid number of extra services.
Their prices are medium but still budget friendly and they have a great customer support service in place that will be able to help you and guide you all throughout the process. As a result, it's not difficult to see why so many people have chosen to work with the Simple Formations company.
Top-Rated Company Formation Agents