Accounting software is great for getting your books in order and making your annual returns a walk in the park compared to manually calculating and trying to track down all your receipts.
Now, we're aware that accounting software can look and feel intimidating. And to be fair, there are some advanced programs out there for accounting experts that would intimate even experienced users like ourselves.
But not all accounting software is like that – most are set up to be easy, friendly, and perfect for beginners like yourself, so here we will answer the question: "What is the easiest accounting software for small businesses in the UK?"
Easiest Small Business Accounting Software
Which Accounting Software Is Right For You?
Answer 5 multiple choice questions to get a personal recommendation:
EXCLUSIVE OFFERS – Save On Your Accountancy Costs

10% Off Accountancy Packages

10% Off Accounting Software
So without further ado, let's help get your accounts in order with the easiest accounting software for small businesses on the market right now.
The 9 easiest accounting software for small businesses in the UK
1. ANNA Business Tools
Ease of use = 9.9
Value For Money = 9.7
Customer Support = 9.2
Features = 8.4
Overall Business4Beginners rating = 9.3
If the idea of having to do your own bookkeeping fills you with dread, the ANNA Business Tools software was made specifically for you.
It's done away with the more advanced, often confusing features and focused on providing only the basic bookkeeping functions you actually need as a small business.
That means you can link your bank to automatically explain transactions, create and send invoices and payment reminders, upload receipts and expenses, and even run payroll all through the app.
Best of all, most of this is completely free. You'll only need to upgrade to a reasonably priced paid plan if you want to automate VAT return calculations or calculate and submit annual tax returns or you want to benefit from the extra tax advice and support the paid plan comes with.
Find more about ANNA Business Tools in our full review.
2. FreeAgent
Ease of use = 9.8
Value For Money = 9.1
Customer Support = 9.4
Features = 9.2
Overall Business4Beginners rating = 9.4
FreeAgent is the software we use at Business4Beginners, so it's safe to say that we rate it really highly. It's a great option for small businesses that offer a pretty wide range of features on an easy-to-use platform that's pretty intuitive for first-time users.
FreeAgent also has a mobile app that allows you to take pictures of receipts and sort out your books from the comfort of your sofa. It also has a pretty useful timer feature, which is great if you charge clients by the hour.
Bigger tasks, such as your tax return, will need to be done on the desktop though. But it's only fair that you pay a little more attention when filling that one out instead of multitasking while watching Netflix.
Find more about FreeAgent in our full review.
3. Quickbooks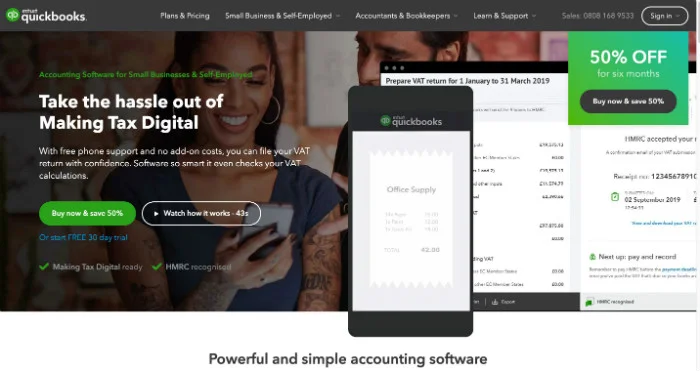 Ease Of Use = 9.4
Value For Money = 9.3
Customer Support = 9.5
Features = 9.1
Overall Business4Beginners rating = 9.3
Quickbooks is one of the most recognised accounting software names out there, that attempt to make doing your books… Quick. Sorry, I couldn't resist that one.
Quickbooks is a dedicated bookkeeping tool that allows you to generate and track invoices, keep payroll admin in check, keep all of your cash flow and expenses organised, automatically import your transactions from your bank account and even automate your tax returns. It really is like having an accountant in your back pocket.
The features on offer are great and combined with the customer support teams, this is one of the most cost-effective software options on the market. However, it's not the easiest for beginners and will take some time to get used to. If you're willing to go through this learning curve, or if you've had some experience with accounting software before, it might be right up your street.
If you're a complete beginner though and don't require some of the extra features, such as VAT submissions, we'd recommend trying alternatives first.
Read more about the full offering that Quickbook has in our review here.
4. Crunch Accounting
Ease Of Use = 9.2
Value For Money = 9.0
Customer Support = 8.9
Features = 9.1
Overall Business4Beginners rating = 9.1
Crunch Accounting offers a free package option full of the basic accounting services that you will need as a small business. If you're looking to get to grips with accounting software, Crunch is a great option to learn the ropes without committing to a monthly fee. Here, you can understand how to use accounting software and upgrade to more advanced features when you need them.
Crunch Accounting also has access to experienced accountants who can step in to help when you need it. This service is part of the paid plan though – so you'll need to weigh this up against hiring your own accountant.
Discover more in our full Crunch Accounting review.
5. FreshBooks
Ease Of Use = 8.5
Value For Money = 9.4
Customer Support = 9.4
Features = 9.6
Overall Business4Beginners rating = 9.2
Although FreshBooks is used more regularly in the US, it has a lot to offer small businesses in the UK – particularly if you're a client-based business.
Designed for those that regularly send invoices, FreshBooks is filled with features such as time-tracking, smart invoicing, and expense tracking. It will also handle your basic accounting services and is both HMCR-approved and MTD compliant for your end-of-year returns.
Now here comes the downside – although the features of FreshBooks are pretty simple, the whole software has a rather complex UX that takes a lot of getting used to. There are some ropes to learn here, but it's 100% worth it if you're going to be sending a lot of invoices.
If you want to know more, be sure to read our full FreshBooks review.
6. Xero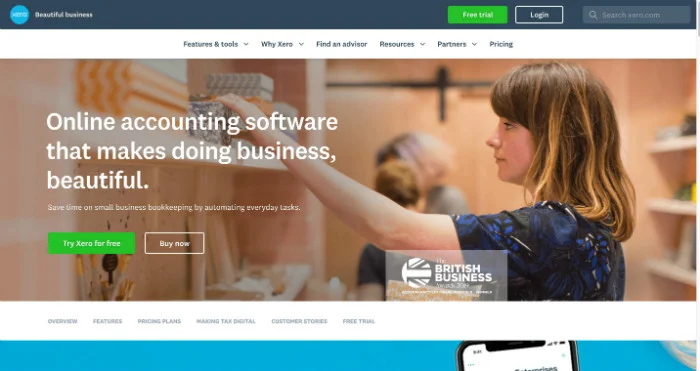 Ease Of Use = 9.1
Value For Money = 9.1
Customer Support = 8.6
Features = 9.7
Overall Business4Beginners rating = 9.1
Xero is a giant name in the accounting software business, offering a pretty compressive service that's used by some of the biggest names in the business. If you wanted software that could offer every service under the book, then Xero is normally the one you turn to.
However, one of its biggest benefits is also its downfall. Xero offers nearly everything to handle even the largest of company books with ease. But the needs of small businesses are a lot different from bigger ones who will have their own accounting department interacting with the platform. Xero has great features for small businesses but assumes that you already know what you're doing. It's not here to hand-hold, Xero means (accounting) business.
Find out more about the accounting giant in our full Xero review here.
7. KashFlow
Ease Of Use = 9.1
Value For Money = 9.4
Customer Support = 7.1
Features = 8.7
Overall Business4Beginners rating = 8.6
KashFlow is a mobile-based accounting app, that allows you to look after your books with simple accounting tools on the go. It's made exactly for small businesses, stating on their official website that KashFlow is an online accounting software made simple – with lots of extras such as free online guides and the ability to share your account with your accountant.
Although it's relatively easy to use, it's worth mentioning that customer support issues have been reported here and it can take a while to set up your account.
See what features are on offer with the full KashFlow review here.
8. Sage 50Cloud
Ease Of Use = 8.3
Value For Money = 9.0
Customer Support = 9.3
Features = 9.8
Overall Business4Beginners rating = 9.1
We'll admit it, at first glance alone Sage 50Cloud is one of the most boring and well… accountant sounding names of any of the software on this list. But don't let the name put you off the excellent features that are on offer here.
Sage 50Cloud is amazing for offering customisable options, allowing you to tailor it to the needs of your business. If you're looking to advance and grow your business, this software will be perfect for adapting and growing with you – offering features such as direct invoicing, stock and inventory tracking, and payment integrations that allow customers to quickly pay with Stripe, PayPal, or GoCardless direct debit.
However, there is a steep learning curve. Users have reported that those who lack IT skills may struggle to get to grips with the interface and find creating templates difficult, particularly when you're using the more advanced features.
You can read more in our full Sage 50Cloud review.
9. Zoho Books
Ease Of Use = 8.1
Value For Money = 9.8
Customer Support = 9.4
Features = 9.6
Overall Business4Beginners rating = 9.2
Putting a Zoho-based software, which is almost notorious for being difficult to use, in a list for easiest accounting software might seem like a mistake – but trust us on this one.
Zoho Books is not as easy as other platforms in this list, but if you're already used to other Zoho platforms – Zoho Books will feel like a familiar extension to the systems that you already use. Plus, being a part of a big suite of software, Zoho Books comes with the biggest list of integrations, allowing it to become a part of the workflows that you already use. It won't feel like a whole new platform, it will just be an extension that manages your books at the same time.
That said, if you're not familiar with or use other Zoho software, the learning curve here might be a little steep for first-timers.
To see all the pros and cons, take a look at our full Zoho Books review.
10. Clear Books
Ease Of Use = 7.0
Value For Money = 9.2
Customer Support = 8.7
Features = 9.0
Overall Business4Beginners rating = 8.5
Last but not least, we have Clear Books. With our lowest rating of 7.0 for ease of use, Clear Books has one of the hardest and most confusing UIs on the list for beginners. But before you write it off completely, let's talk about some of the positives at work here.
Clear Books has an incredibly diverse range of features, starting with basic bookkeeping to more advanced stock level tracking, CIS requirements, and the ability to create dividend payments. Clear Books software also has a great low price point compared to other online software that offers the same range of features. Their small plan starts at £10 – with discounted rates if you purchase annually.
Read the full Clear Books review here.
Do I need an accountant if I use accounting software?
Accounting software gives you the tools to manage and do your books yourself easily, so no, you technically don't need an accountant. For some people, using accounting software is a great way to save costs while having the assurance that everything is safe, backed up, and kept in an orderly way.
However, there's no rule against having accounting software and an accountant. You can use accounting software to keep your everyday books and expenses in order while trusting your accountant to just make sure everything is on track and your returns are correct.
Most software allows you to share your account details with your accountant, which also makes it easier for them to see your data and serve your business, lowering your overall accounting costs. If you haven't got an accountant yet, why not take a look at some of the best online accountants on offer here?
How much should a small business spend on accounting software?
The rubbish answer here is that it depends on your business and the specific features that you're after.
For basic packages and bookkeeping features, the cheapest packages start at about £8 or £10 a month using software such as KashFlow or ClearBooks. This price ranges to around £20 a month with Sage 50Cloud, which offers a more advanced solution as its base.
The more features that you need, the more monthly costs you can be expected to pay. But even at the most expensive monthly cost, your small business will still be saving money than hiring a bookkeeper or accountant to sort these files out for you.
Is there any free accounting software for small businesses to use?
Yes! There is accounting software that offers free packages for small businesses to get started. From the above list, the following software has a free package for you to take advantage of.
Crunch Accounting;
Zoho Books.
For both of these, the free package will offer only basic services and features, with more advanced functions being locked behind a paywall.
For Crunch Accounting, which operates an add-on model, this option could be perfect for your small business to get started and pay minimal costs for the specific features that you want to add. However, be warned that these add-on prices quickly add up – and you might find better value for money by opting for a monthly package elsewhere.
What are the best accounting software features for small businesses?
Again, the answer to this question depends on what your small business is and how it's financially structured. If you make money from clients, then having features that create invoices is a must for your accounting software.
If you have a lot of expenses, then you'll need software that connects to your bank and automatically tracks these expenses on your behalf. The ability to take pictures of and store receipts is also a massive time-saving bonus here too.
Otherwise, basic accounting software features for small businesses might include:
Invoicing;
Bank and credit card syncing;
Accounts payable/receivable;
Online payment collection from customers;
Basic financial statement preparation, such as profit and loss statements, balance sheets, and statements of cash flow.
Basically, you need features that track and monitor your finances and allow you to keep all of this information securely in one place.
Can I submit my annual returns using accounting software?
You can submit your annual returns on any accounting software that is HMRC registered, like all of the examples that we have listed above. Before you invest in accounting software, we'd recommend checking the list of HMRC-approved software here.
It's also worth mentioning that annual returns may be a paid feature that isn't available on basic packages, so make sure that you read the feature list very carefully.
Get started with the easiest accounting software for small businesses
Ready to make doing your books a breeze with accounting software? Get started with our picks of the easiest accounting software in the UK.
Easiest To Use Accounting Software: