A common question for new-time business people is whether or not you can start a business under 18 years old in the UK.
We're very proud of these up-and-coming entrepreneurs that don't want to do things the traditional way and instead want to jump in, head first, under their own terms. Some people might say that the next generation is entitled, but I'd call this behaviour inspiring.
Starting a business as a minor is no minor event (get it?), it's a big deal. To ensure that you get all the facts and information right, we've put together this guide on how to start a business under 18 years old in the UK, including some tips and tricks to help you get the most from your new business ventures.
There's no time like the present, so let's get stuck in.
Starting A UK Business?
Get rid of the confusion and always know what to do next with Startup Hive, the step-by-step platform created by the Business4Beginners team.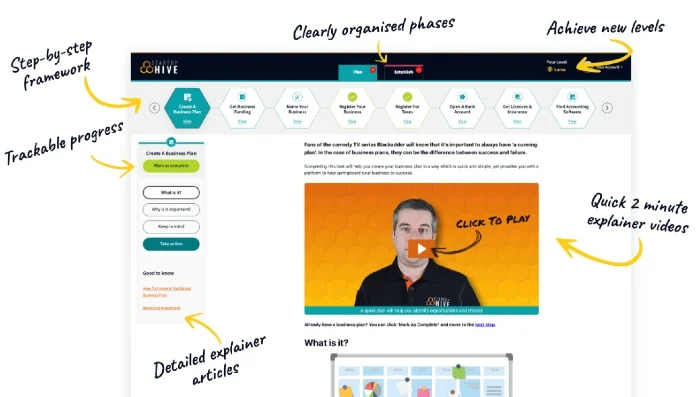 Also includes:
+ Free Bookkeeping Software
Join today for 100% FREE access to the entire Plan phase, taking you from generating and validating your business idea, through to registering your business and ensuring all your key responsibilities are taken care of. You'll end the phase by preparing your mindset to cope with being self-employed.
"Excellent guide to build your business"
"The perfect starting point"
"Incredibly simple and intuitive to use"
Get clear actions to follow then mark steps as complete to track your progress to your ultimate goals. Use the built-in AI tools to power up your ideas and easily generate PDFs that showcase your ideas (including a one-page business plan).
Startup Hive is your trusted companion as you look to turn all of your business dreams into reality. Join today for free.
—
Can you start a business under 18 in the UK?
First things first, let's answer the critical question here. If you're under 18 years old in the UK, can you start a business? The answer is: absolutely yes.
Nothing is blocking you from starting a business at all. However, there are some caveats to this, particularly financing a business. But we'll get into that later.
Now, when it comes to forming a business in the UK, there are two routes that startups tend to take.
The first is to register as a sole trader, which is a business solely owned by one person. The second is to form a Limited Company, which is its own legal entity and is owned by shareholders.
Technically, those under 18 cannot form a limited company by themselves but can be appointed the director of one and have the majority of shareholders if they form it with someone over 18 years old.
Top-Rated Company Formation Agents
What's the minimum age to be a company director?
You can become the director of a company in the UK when you turn 16 years old. However, being a director does come with certain legal responsibilities, so if you want to be a director, you need to commit to running the company and making sure all accounts and reports are properly filed on time.
Failure to do so will result in pretty hefty fines and other nasty scenarios, like investigations from the HMRC, which nobody wants to go through. It could also mean your removal as director of the company if you're not sufficiently able to carry out this role. In some extreme cases, it could also mean imprisonment.
All this isn't to make you panic, just to be prepared to take on the role. And if you're not sure of what legal obligations you may have running a business, we'd always recommend getting legal advice from a lawyer before you sign your name on any dotted line.
When it comes to taking care of your accounts and records, you'll also want to invest in some online accounting software to make the whole process a lot easier. We've rounded up some of the best accounting software options in the UK for you to look at, including some tremendous beginner-friendly options to suit any under 18 company director.
Top-Rated Accounting Software:
Can you become a shareholder in a limited company?
If you're under 18, you can be a shareholder in a limited company. For some people under 18, being assigned shares and potentially a directorship from a limited company that a parent or guardian has formed is a great option.
Even if you don't take part in the day-to-day running of the business, being a shareholder means that you'll be entitled to a share of the company's profits through dividends, which is a great way to earn income.
However, the taxation laws around this are a little complex if you're under 18. Any gross income over £100 is still liable for tax – but it becomes the responsibility of the parent or guardian to pay this on behalf of the minor.
In addition, any shares that are passed onto children from a limited company are considered Capital Gains, which are then eligible for Capital Gains Tax. Although this set-up might work for some, with the added tax added to parents – it might be best to set up as a sole trader until you become 18 years old.
You can always change from a sole trader to a limited company at a later date, so any choice you make now is not set in stone.
Can you become a sole trader under 18 in the UK?
Yes! There's no minimum (or maximum!) age for sole traders.
As we defined earlier, a sole trader is a business that is solely owned by a single person. It really doesn't matter how old you are – making them excellent options for those under 18 years old.
In order to register as a sole trader, you must notify HMRC and register for self-assessment tax returns. Because you work for yourself, you need to manually work out and pay your tax each year rather than have it automatically deducted from your PAYE slip.
Now comes the fun part, your company name.
As a sole trader, you don't need to register your company at Companies House. That's something you will do if you decide to become a Limited Company. Generally speaking, you can start trading under any name you want, making sure you include it on all official paperwork, invoice, and letters that you produce.
There are a few restrictions, though. You cannot:
Use swears, offensive or sensitive words. What might be a really cool and edgy idea is a really bad one as you'll be banned faster than you can say your company name.
Use an existing trademark, which you can see a full list of here!
Use words or acronyms like limited', 'Ltd', 'limited liability partnership', etc. Basically, if you haven't officially registered as it, you can't name it like that.
Suggest a connection to the government or local authorities unless you get permission to do so. For example, if you want to use 'Accredited' in your company's name, you need permission from the Department for Business, Energy and Industrial Strategy (BEIS).
Whatever you decide on for your name, remember that you can always register it as a trademark yourself to stop any future entrepreneurs from stealing your great idea.
Recommended Course
Includes:
How to get organised for doing your own tax return
How to find your way around the HMRC website
How to complete your tax return
How to answer the HMRC questions that are hard to understand when you're not an accountant
Plus much, much more!
Do you need to be 18 to get a business bank account?
Time for the bad news. If you're under 18, you cannot get a business bank account. This means no business loans, credit cards, or traditional forms of finance for your business.
This doesn't mean that you can't fund your business – it just means that you need to look for other means to get that funding.
As you can't get a business bank account, you'll also need to keep extra detailed and accurate records of your business income in your regular bank accounts for your tax returns. If you haven't already got one, we'd strongly recommend investing in some accounting software here.
Are there alternative ways to fund a business if you're under 18?
So without a business bank account, how can you fund your business?
Ultimately, there are a lot of ways that you could do this, including:
Taking out a personal loan from a family member rather than a business loan.
Teaming up with a family member or partner who is over 18, so they can handle the business bank details on behalf of your business.
Taking advantage of grants or finance schemes in your area, particularly those designed at getting young people into business. You might be surprised at what's available in your area.
One alternative is also to forget about the finance for now and get started with what you can. Some great businesses started out with nothing, built from the ground up from the garage of their parent's houses.
Now, there are more tools than ever to help build your business. Social media accounts are free and a great way to spread word of mouth. Website builders are a cheap way to get your business online – and some website builders even offer free packages that are perfect for getting started.
What help is available for starting a business under 18?
There are many schemes and programs designed to help young people get into business. Taking advantage of these schemes could provide you with the funding, mentorship, help, advice, or skills you need to succeed.
Some of these programs include:
And much, more more. You'll also want to check your local government and area, as there are often local programs that you can also take advantage of.
What tax do you need to pay if you're under 18?
Yeah, even if you're under 18, you're still eligible to pay tax. There are a few rules and exceptions, though, as those under the age of 16 will be exempt from paying National Insurance.
You'll also get a tax-free allowance on your earnings. If you earn under £12,500 in a year, you won't be eligible for income tax. This is great for those who have set up a business as a small-earning side project while in education.
Recommended – Top-Rated Online Accountant:
Low fixed monthly fee
No minimum terms
Unlimited advice
Can you start a business if you're still in school?
Yes, you can start a business if you're still in school. However, there may be a few tiny caveats to this rule.
In the UK, you are legally required to be in full-time education until you are 16 years old. If you want to start a business under 16, you cannot do anything that will jeopardise your school attendance and performance. This will suit people who are considering doing a few hours a week, which they could easily fit around school commitments and school work.
If you're over 16, you're not legally required to be at school. However, if you want to gain qualifications and earn as many skills as possible while running a business, you're free to do so.
We recently made a guide about how to start a business while employed. Although some aspects here are vastly different, as you won't have employment contracts at school, some of the tips we shared to help balance two key areas of your life with your home commitments still ring true. These include:
Starting small
You can't give 100% to all areas in your life, sadly. Rather than going 100% into your business, take baby steps to make sure you don't crash and burn.
Save and reinvest your income
Having money come in while you're in education is an amazing feeling, and the temptation will be to go wild and enjoy yourself. While you should definitely enjoy your youth, try to hold onto some of this income to further invest in your business and grow your success. 
Create a work/life balance
It will be hard to make any time for yourself or your family if you're juggling both school and a business. You need to find a balance here – being switched on all the time will increase stress and resentment towards what you're trying to create. Being relaxed and well-rested will give you the best ideas anyway.
At Business4Beginners, we'd also recommend trying to get as much help for your business as you can while you're at school. Take advantage of any free school programs or incentives that could help you out, use your classmates as a free source of market research, and grab any opportunities to skill up and learn as you can.
Recommended Course
Includes:
How to write an effective business plan
What is the most effective structure to follow in a business plan
How to use structures, tables, analyzes for the success of the plan
Why a well-developed financial plan is important
The criteria by which you segment the market and the target market
Plus much, much more!
Are there restrictions on when you can work if you're under 18 years old?
There are certain laws about how many hours and when under 18s can work, designed to protect them from being taken advantage of. These include:
Not working more than 8 hours a day and 40 hours a week (full-time hours).
Sufficient rest breaks, including a 30-minute break if their day is longer than 4.5 hours.
Breaks between shifts, with a 12-hour minimum rest between any 24 period of work. For example, if they finish a shift at 8 pm on a Friday, they cannot come in at 6 am on the following Saturday morning.
Not working during the restricted period between 10 pm and 6 am, or between 11 pm or 7 am if it's not written within their contract, or they are not working certain roles such as bars, entertainment, etc.
However, these rules apply to those who are employed by others. If you're self-employed, you don't need to adhere to these rules. You set your own hours and work conditions to work as hard and often as you want.
We'd always recommend new businesses to pace themselves, though. There's no use in hitting the pedal hard right from the start line – you'll burn out pretty quickly. Instead, make sure you take time to slow down, review your business plan and make sure that you're following the right path.
If you haven't created a business plan before, take a look at our step-by-step guide to creating your business plan here.
Want more business advice?
At Business4Beginners, we're here for you, no matter your age.
Take a look at some of our tips and advice for starting your own business, and turn on notifications to ensure you don't miss out.