Probably one of the most daunting parts of starting your own business is the thought of having to deal with all of the accounting and finance issues that come with it.
In fact, many people who start an online business turn a blind eye to accounting when they start, figuring they can catch up later.
However, this generally leads to a mountain of headaches and is certainly not recommended – especially as there are some basic bookkeeping practices you can employ that will make your life so much easier.
The level of detail your basic bookkeeping practices will need to cover depend mostly on how your business is setup, for example sole traders can keep much simpler accounts than limited companies.
Basic Bookkeeping for Sole Traders
As far as keeping accounting records go, sole traders have it far easier than any type of company. In essence, all you need to do as a sole trader is keep records of all of your income and all of your expenses.
When it comes to doing your tax return, you can just add these up and enter the figures in the appropriate place on the form.
This means that using a simple profit and loss account and retaining copies of all invoices and receipts (so you can show the tax man should you ever get asked to prove your tax returns are accurate).
Its a good idea to setup a filing system and number your invoices and receipts so that you can easily track and record them. Your profit and loss account can be a simple spreadsheet detailing income and expenditure. Its also a good idea to break down income and expenditure in to categories such as advertising costs, banking fees, etc. This will then help you better manage your business and cashflow.
As sole traders do not need to file any accounts, this is all you really need to do in terms of basic bookkeeping and a lot of it is just to make your life easier in the long-run.
Get a free quote from a local bookkeeper:
Basic Bookkeeping for Limited Companies
Unfortunately things are not quite a straight-forward for limited companies as you will need to deal with a more complex set of circumstances such as dividends and PAYE as well as file annual accounts with Companies House.
It is also a legal requirement that you stay on top of your companies accounting records and keep historical records for at least 6 years.
The main things you will need to maintain a basic set of accounts are:
Sales Ledger – detailing all income and amounts still owed
Purchase Ledger – detailing all expenditure
Wages Book – Showing all salary payments and National Insurance contributions
From these you will be able to prepare your annual accounts which is a legal requirement for all limited companies.
Because of the complex nature of preparing accounts, you would generally be advised to use an accountant or bookkeeper to prepare your accounts. Not only will this ensure that all records are accurate but it can also help to save you money in the way of tax efficiency. It will also save you a lot of time and headaches so that you can concentrate your time on making your business a success.
Accountants and bookkeepers can charge anything from a couple of hundred pounds to several thousand pounds for annual accounts to be prepared. However, for most companies just starting out will be towards the bottom end of that scale as the price will only rise as your transactions become more complex and numerous.
However, even if you do outsource the preparation of your accounts to an accountant or bookkeeper, you will still need to do some basic bookkeeping yourself.
As with a sole trader, you will need to keep and file away all invoices and receipts and keep a basic profit and loss account in order to track all of the incoming and outgoings of your business. Doing this will help to save you money on your accountancy bill as it will make the preparation of your accounts much quicker and easier.
Basic Bookkeeping with Accountancy Software
If you want to make your life easier (whether you are a sole trader or limited company) then we would strongly advise the use of a good accountancy software to help record all of your income and expenditure.
Such software can be very inexpensive but can save you a lot of time and effort.
They work by giving you the chance to record all of your transactions on a computer system that helps to number the records and store notes about each transaction. You can also allocate different transactions to different areas very easily (e.g. advertising, bank fees, etc).
You can also quickly ensure everything tallies up by matching the amounts to your bank statement and some, such as our recommended software KashFlow, help you to send and track invoices too so it also becomes a kind of client management software.
If you are new to business then you would be strongly advised to invest in an accountancy software package as they only cost a few pounds a month but will make basic bookkeeping such much quicker and easier from the start. Then, if you are a limited company you only have to pay an accountant or bookkeeper to file your annual accounts each year – suddenly your business accounting will seem much less daunting!
Of course, maintaining the correct accounting records is only the start, if you really want to make the most from running your own business then you should be looking at tax efficiency when carrying out business in order to minimise your tax liability.
SPECIAL OFFER: Save 10% On Our Recommended Accounting Software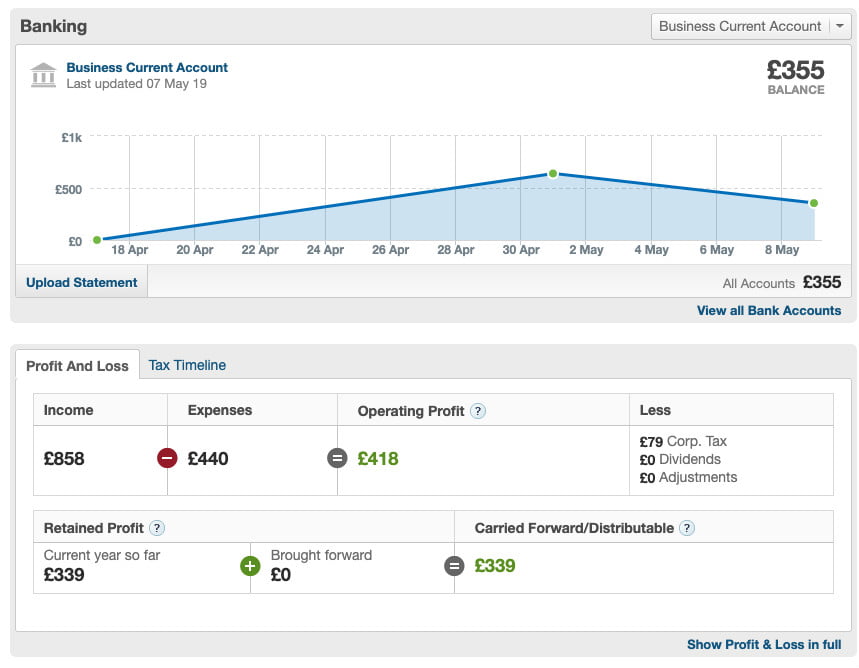 Here at Business4Beginners we are big fans of the FreeAgent business accounting software. It makes it really easy to connect your accounts and then tally up transactions to invoices and receipts.
As you go along, it automatically calculates your taxes such as Corporation Tax, VAT, PAYE and even your own Self Assessment returns. Then all you need to do is click a few buttons to submit your returns.
It makes bookkeeping easy as there are no complex calculations or forms to complete. Best of all, after your 30-day free trial, you can use our exclusive discount code you'll save 10% for the lifetime of your account.
Just enter the FreeAgent referral code 4904ixil when you submit your payment.
Click here to start your 30-Day FREE TRIAL of FreeAgent
(Your 10% discount will be automatically applied)
Top-Rated Accounting Software: